Lilia Ben Salem, « Remarks on Sociology in Tunisia ».
Lilia Ben Salem, «Propos sur la sociologie en Tunisie »
Through an interview with Lilia Ben Salem, this articles retraces certain aspects of sociology in Tunisia : the considerable influence of the French university system on the Tunisian university system during the first decade of Tunisia's independence, the role played by the CERES, one of the first social science research centres, in the 1960s, the devel-opmental approaches adopted in the 1960s, followed by the debates in the 1970s on the notion of cultural specificity, the effects of arabicising teaching and the professional outlook for socio-logists at a time of employment saturation in public administration.
Cet article retrace, à travers un entretien avec Lilia Ben Salem, certains aspects de la sociologie en Tunisie : la grande influence de l'Université française sur l'Université tunisienne dans la première décennie de la Tunisie indépendante, le rôle qu'a joué un des premiers centres de recherche en sciences sociales (CERES) dans les années 1960, les approches développementalistes des années 1960, puis les débats des années 1970 autour de la notion de spécificité culturelle, les effets de l'arabisation de l'enseignement, ainsi que les perspectives professionnelles des sociologues à un moment de saturation de l'emploi dans l'administration publique.
Fichier principal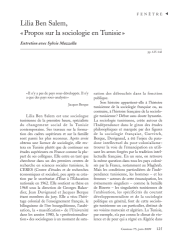 art_mazzella_BenSalem_juin_2009.pdf (155.31 Ko)
Télécharger le fichier
Origin : Explicit agreement for this submission