Packaging and closed-loop supply chain: contribution to the transition from a linear economy to a circular economy.
Packaging et chaîne logistique en boucle fermée : contribution au passage d'une économie linéaire à une économie circulaire.
The strong relationship between the packaging and the other components of the product life cycle has been fully recognised since the beginning of the millennium. In the same manner, one observes a growing interest, particularly through the lens of sustainable development, in the role that packaging plays within complex supply chains, which is true for many industries. In line with these evolutions, this article adopts a fresh approach of packaging, by analysing its logistics functions vis-à-vis their capacity to promote the transformation of a linear economy into a circular one. The authors (1) carried out a study on the relevant theoretical framework and (2) proposed a research model related to a packaging scorecard that adopts a circular economy perspective, before (3) presenting first results of an empirical study targeting packaging industry experts.
Depuis le début des années 2000, la relation forte existant entre le packaging et les autres composants du cycle de vie du produit est reconnue. Parallèlement, dans une perspective de développement durable, un intérêt grandissant est porté à la place qu'occupe le packaging au sein des chaînes logistiques multi-acteurs, et ce, dans des secteurs d'activité très variés. Fort de ce constat, cet article adopte une posture novatrice du packaging : analyser ses fonctions logistiques par rapport à leur capacité à favoriser le passage d'une économie linéaire à une économie circulaire. À partir d'une étude sur les fondements théoriques mobilisables et de la proposition d'un modèle de recherche relatif à un packaging scorecard adapté à une vision circulaire de l'économie, les premiers résultats d'une étude empirique réalisée auprès d'experts de l'industrie du packaging sont présentés.
Fichier principal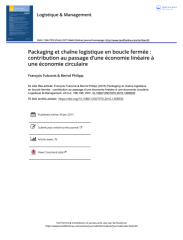 L&M2016_FulconisPhilipp_PARU_DOI.pdf (1.82 Mo)
Télécharger le fichier
Origin : Files produced by the author(s)