Les éditions de la Revista de Occidente et leurs avatars (1924-1944): le rôle des traductions dans le rayonnement culturel espagnol en Amérique Latine
Revista de Occidente, a publishing house founded in 1924 by José Ortega y Gasset (1883-1955) one year after the homonymous review, was the philosopher's one of the most outstanding cultural enterprises. It contributed to the development of the Hispanic sciences and letters and had a considerable influence in Latin America. More than 85 % of the catalog of this review were translated works, essentially from German : the paper enhances this choice of translation as revealing the off-centered position of Spanish culture within the international cultural exchanges. It analyses secondly the impact of these translations in Latin America (particularly in Argentina), illustrating how these translations contributed to the construction of the Latin American cultural identities, and led finally to a rejection of the dominant peninsular culture. The article finally considers the last editorial project authored by Ortega y Gasset after the Civil War, and the failure of this last embodiment of the Revista de Occidente : an example of the reversal of fortune of Spanish cultural hegemony in Latin America and of the major role of sociopolitical context as a conditioning factor of intellectual mediation activity.
La Revista de Occidente, maison d'édition fondée en 1924 par José Ortega y Gasset (1883-1955) un an après la revue éponyme, fut l'une des entreprises culturelles les plus marquantes du philosophe. Elle contribua à l'essor des sciences et lettres hispaniques et connut un rayonnement considérable en Amérique Latine. Son catalogue était constitué à plus de 85% d'ouvrages traduits, pour l'essentiel de l'allemand. L'article examine d'abord cette politique de traduction comme un révélateur de la position excentrée de la culture espagnole au sein des échanges culturels internationaux. Il s'intéresse dans un second temps à l'impact de ces traductions en Amérique Latine (en Argentine en particulier), à la façon dont ce patrimoine contribua à la construction des identités culturelles latino-américaines, pour conduire finalement à un rejet de la culture péninsulaire dominante. Le propos aborde enfin le projet éditorial monté par Ortega y Gasset après la Guerre Civile, dernier avatar de la Revista de Occidente, dont l'échec illustre le revers de fortune de l'hégémonie culturelle espagnole en Amérique Latine et le rôle capital du contexte socio-politique du pays-cible comme facteur conditionnant de l'activité de médiation intellectuelle.
Fichier principal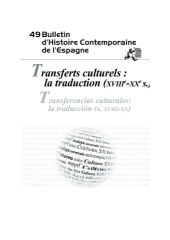 FOURMONT_2014_La traduction dans la Revista de Occidente_BHCE.pdf (847.73 Ko)
Télécharger le fichier
Origin : Publisher files allowed on an open archive