Morphogenese und holozäne Geosysteme im östlichen Sahara-Atlas und in der nordwestlichen Sahara (Algerien, Tunesien)
Morphogenesis and Holocene geosystems in the eastern Sahara-Atlas and nortwestern Sahara (Algeria, Tunisia)
Morphogénèse et géosystèmes holocènes dans l'Atlas Saharien oriental et le Bas-Sahara (Algérie, Tunisie)
Das Holozän des östlichen Sahara-Atlas und der nordwestlichen Sahara lässt sich in vier Abschnitte untergliedern. Das Frühholozän (10.000 bis etwa 7.000 B.P.) ist durch zunemende Humidität gekennzeichnet. Es endet mit einer kurzen Trockenphase gegen 7.500 - 7.000 B.B.. Das Mittelholozän (7.000 - 3.500 B.P. ?) stellt wahrscheinlich den Abschnitt des Kilmaoptimum dar. In der prähistorischen Periode des Jungholozäns beginnt die zunehmende Aridisierung. Das historische Jungholozän ist nach einer kurzen. Feuchtphase um 2.400 B.P. durch die Schüttung des Unteren Niederterrasse, deren Zerschneidung und schliesslich die Desertifikation geprägt, die zur Remobilisierung äolischer Sande führt.
The Holocene of the eastern Sahara-Atlas and the northwestern Sahara can be subdivided into four periods.The early Holocene (10,000 - 7,000 B.P.) is characterized by increasing humidity. It ends with a short arid phase around 7,700 - 7,000 B.P. The middle Holocene (7,000 - 3,500 B.P.) is likely to represent the climatic optimum. The prehistoric part of the late Holocene period shows increasing aridification. The historical late Holocene, following a short humide phase around 2,400 B.P., is characterized by the deposition of the lower terrace body and its dissection as well as by desertification leading to the remobilization of aeolian sands.
On peut diviser l'Holocène de l'Atlas saharien oriental et du Bas-Sahara en quatre sous-périodes. L'Holocène inférieur (10 000 B.P. à environ 7 000 B.P.) est caractérisé par la croissance de l'humidité. Il se termine par une courte phase sèche vers 7 500 - 7 000 B.P.. L'Holocène moyen (7 000 - 3 500 B.P. ?) est probablement la sous-période de l'optimum climatique. A l'Holocène supérieur préhistorique commence l'assèchement climatique progressif. L'Holocène supérieur historique, après une courte phase humide vers 2 00 B.P., se caractérise par l'accumulation de la très basse terrasse, puis son entaille et enfin par la désertification qui remobilise les sables éoliens.
Fichier principal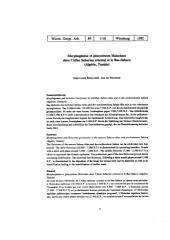 Morphogénèse et géosystèmes holocènes ... Bas-Sahara.pdf (26.74 Mo)
Télécharger le fichier
Origin : Explicit agreement for this submission