Les rapports entre Vaison-la-Romaine et l'Ouvèze (Vème s. av. J.-C. - XXIème s. ap. J.-C.)
Since the creation of the town of Vaison, its site has been oscillating on both sides of the Ouvèze river. During the Vth century B.C., it is occupying the left bank. Since the Roman conquest (IInd century B.C.), the site has been moving to the right bank. It stayed on this bank up to the XIIth century A.D. went the Comtes de Toulouse castle has been built on the left bank. A castral town is then organized at its foot and the abandonment of the right bank is complete. The right bank is again urbanized mainly during the XIXth and XXth centuries and the castral town then becomes marginal. This exceptional oscillation of an urban site is due to several causes that could have interfere and succeed along the time. One of them is constituted by the Ouvèze dynamics. We can show, for example, that the intermediate flow channel moved towards the right bank during Late Antiquité. Sections show the continuation of aggradation by about 1 m of flood silts since the building of the catheral that has been flooded on 1992 september 22. This exceptional flood has confirmed that the cathedral is located in the flood plain and that aggradation is going on in this flood plain.
Pendant ses 26 siècles d'existence, le site de la ville de Vaison a oscillé de part et d'autre de l'Ouvèze. Au Vème s. av. J.-C., il occupe la rive gauche. A partir de la conquête romaine (IIème s. av. J.-C.), le site se déplace en rive droite. Il se maintient en rive droite jusqu'au XIIème s. qui voit la construction du château des Comtes de Toulouse en rive gauche. Un bourg castral s'organise à son pied et l'abandon de la rive droite est total. C'est surtout aux XIXème et XXème siècles que la rive droite est à nouveau largement urbanisée, le bourg castral devenant alors marginal. Cette oscillation exceptionnelle d'un site urbain relève de plusieurs causes qui ont pu interférer et se succéder au cours du temps. L'une d'entre elles est constituée par la dynamique de l'Ouvèze. On peut noter, en particulier, le déplacement du lit moyen vers la rive droite pendant l'Antiquité tardive. Les coupes montrent une continuation de l'accumulation de limons de débordement d'environ 1 m depuis la construction de la cathédrale. Son inondation le 22 septembre 1992 a confirmé sa localisation dans le lit majeur de l'Ouvèze et la continuation de la tendance à l'accumulation dans ce dernier.
Fichier principal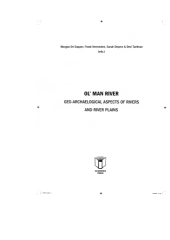 Les rapports entre Vaison-la-Romaine et l'Ouvèze.pdf (28.51 Mo)
Télécharger le fichier
Origin : Explicit agreement for this submission