Marquer et pratiquer les lisières urbaines. Les portes de ville à l'époque moderne
Based on the Portes et périphéries articles published in <> (2016/2), this work examines city gates in the early modern period in their architectural dimension, as monuments, and in their material, social and symbolic functions. The latter involve setting specific communities and their activities, organising circulations and controlling exchanges, and defining internal and external territorialities. The Portes et périphéries articles explore how, beyond their significance as monuments, citizens and travellers make these gates their own. It opens new paths of enquiry by crossing basic elements of urban modelling as defined over the centuries, with the significance these gates have been given by different communities according to their uses, their management, their rearranging, and how they have been integrated into various narrative and visual contexts. 
Sur la base du dossier Portes et périphéries, publié dans "Città & Storia" (2016/2), l'article propose une réflexion sur les portes de ville à l'époque moderne, analysées, à côté de leurs dimensions architecturale et monumentale, comme des dispositifs à la fois matériels, sociaux et symboliques qui fixent des activités et des populations spécifiques, organisent les circulations et le contrôle des échanges, ordonnent des territorialités intra et extra-urbaines. En explorant, au-delà des significations de la porte-monument, leurs appropriations par les citadins ou les gens de passage, les contributions publiées dans ce dossier tracent des voies pour poursuivre l'enquête, en croisant ces éléments de base de la forme urbaine, tels qu'ils se sont inscrits dans une durée pluriséculaire, et les affectations de sens dont les ont investis les sociétés, par leurs usages, leurs gestions, leurs réagencements, leurs mises en récits et en images.   
Fichier principal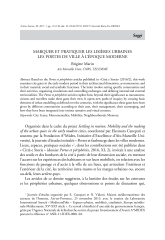 marin_Città e Storia_2017.pdf (727.02 Ko)
Télécharger le fichier
Origin : Explicit agreement for this submission