Looking for savings in local governments: what devices to what rationalities? More control or more steering?
La recherche d'économies dans les collectivités territoriales : quels dispositifs pour quelles rationalités ? Plus de contrôle ou plus de pilotage ?
Considering the burden of financial assistance from the central government and the effect of tax transfers on the central government's budget position, local finances are an important part of the interrelated set of public finances. Therefore, expenditure containment by local government is a necessary contribution to reducing public account deficits and complying with France's EU commitments. In this constrained context, specialist literature seems to indicate two major pathways for containing local spending. Firstly, it is possible to strengthen expenditure control, for example by making sharp cuts to current operating costs, deferring or cancelling investments, decreasing public subsidies and aid, raising local taxes, putting more pressure on suppliers, or increasing the prices of services rendered. Secondly, it is possible to increase local steering capacity by selectively intervening on government action and expenditure in a differentiated manner, by analysing the social value created for users at the lowest cost, by implementing deliberate choices, by deciding on the implementation of budgetary processes, or by restructuring the local service offering thanks to better knowledge of users' needs and level of satisfaction. The results of our research show that a very wide majority of French local authorities have been aware of the importance of looking for savings solutions for the past decade, due to the deterioration of their financial situations. It also turns out that the tools and devices used are mainly guided by a resource control rationale. Thus, our findings highlight the weakness of the steering paradigm, which is characterised by tools and actions that have a strategic and political dimension. The solutions currently being implemented are focused on the short term and are more oriented towards control. Thus, these actions could ultimately have a negative impact on the local services offering without proper prior control.
Compte tenu du poids des concours financiers de l'État et de l'effet des transferts de fiscalité sur l'équilibre bud-gétaire de l'État, les finances locales forment une partie importante de l'ensemble interdépendant des finances publiques. Dès lors, la maîtrise des dépenses s'impose comme une nécessaire contribution des collectivités territoriales au redressement des comptes publics et au respect des engagements européens de la France. Dans ce contexte contraint, deux voies principales semblent exister, dans la littérature dédiée, pour maîtriser les dépenses locales. Tout d'abord, il apparaît possible de renforcer le contrôle des dé penses, par exemple en diminuant de manière significative les dépenses ac-tuelles de fonc tion nement, en re por tant ou annulant des investissements, en diminuant les subventions et aides publiques, en augmentant les impôts locaux, en mettant plus de pression sur les fournisseurs, ou en-core en augmentant les tarifs des prestations délivrées. Ensuite, il est aussi possible d'accroître les capacités locales de pilotage, en agissant sé lec ti vement sur l'ac-tion publique et sur les dé penses de façon différenciée en analysant la valeur sociale créée pour l'usager au coût le plus faible, en réalisant des choix assumés, en produisant des arbitrages dans la mise en œuvre des processus budgétaires, ou en restructurant l'offre de service locale en connaissant mieux les satisfactions et besoins des usagers.Les résultats de notre recherche démontrent que les collectivités territoriales françaises, dans leur grande majorité, sont sensibilisées à la recherche de solutions d'économies, depuis une dizaine d'années, en raison de la dégradation de leurs situations financières. Il s'avère également que les outils et dispositifs mo bi­li sés sont majoritairement guidés par une logique de contrôle des ressources. Aussi, les résultats mettent en évidence la faiblesse de la logique de pilotage, ca­rac té ri sée, elle, par des outils et des actions ayant une dimension stratégique et politique. Focalisées sur une logique court­termiste, les solutions actuellement en-gagées, plus orientées contrôle, pourraient ainsi, à terme, impacter négativement l'offre de services lo-caux sans réelle maîtrise préalable.
Fichier principal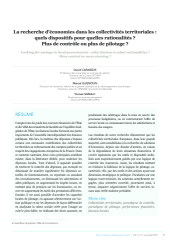 Revue GMP - Chap 1 FR - V2.pdf (500.18 Ko)
Télécharger le fichier
Revue GMP - Chap 1 EN - V2.pdf (581.28 Ko)
Télécharger le fichier
Origin : Files produced by the author(s)
Origin : Files produced by the author(s)