The field trip drawings of the French School of Geography (Paul Vidal de La Blache and Pierre Deffontaines)
Los dibujos de trabajo de campo en la Escuela francesa de Geografía (Paul Vidal de La Blache y Pierre Deffontaines) 1
Le dessin du paysage á l'École française de Géographie (Paul Vidal de La Blache et Pierre Deffontaines)
The French school of geography developed all kind of tools such as field diagrams, and drawings of profiles and of the scenery for the analysis of the landscape and particularly for the understanding of the relationship between human societies and their physical environments. Paul Vidal de La Blache was the pioneer in this field, practicing a very simple and constructive drawing, from topographic records to complex landscape analysis. Emmanuel de Martonne was the founding father of the cartographic school of the Sorbonne University in Paris, and a geography pedagogue using his canonic graphic exercises. Pierre Deffontaines followed De Martonne lessons and produced an enormous graphic legacy, often used in his publications. After a decline in these techniques caused by the introduction of the use of quantitative analysis and computers, field drawing is coming back with a new reading of the old masters, and by the renewed interest on landscape and a more sensible geography.
La Escuela francesa de Geografía ha desarrollado el croquis de terreno y el dibujo de perfiles, bloques diagramas y croquis panorámicos como herramientas eficaces para el análisis del paisaje y particularmente de las relaciones entre las sociedades humanas y su entorno físico. Paul Vidal de La Blache, precursor en este campo, ha practicado un dibujo simple y constructivo, pasando de un inventario topográfico a un análisis complejo del paisaje. Emmanuel de Martonne ha sido el fundador de una escuela de cartografía en la Universidad de la Sorbona y el pedagogo de los ejercicios gráficos canónicos del geógra-fo. Pierre Deffontaines ha seguido sus lecciones y producido una obra grafica inmensa, muchas veces utilizada para ilustrar sus publicaciones. Después de un declive causado por la introducción del análisis cuantitativo y del ordenador, el croquis de terreno vuelve con la relectura de los maestros anteriores y la vuelta del paisaje y de la sensibilidad en el ámbito geográfico. Palabras clave: historia de la Geografía, Escuela francesa de Geografía, iconografía, dibujo de paisaje.
L'École française de géographie a développé le croquis de terrain et le dessin de coupes, blocs diagrammes et croquis panoramiques comme outils eficaces de l'analyse du paysage et en particulier des rapports des sociétés humaines avec leur environnement physique. Paul Vidal de La Blache, précurseur de ces méthodes, a pratiqué un dessin simple et constructif, qui est passé de l'inventaire topographique à l'analyse complexe du paysage. Emmanuel de Martonne a été le fondateur d'une école de cartographie à la Sorbonne et le pédagogue des exercices graphiques canoniques du géographe. Pierre Deffontaines a suivi leurs leçons et produit une œuvre graphique immense, souvent utilisée comme illustration dans ses publications. Après une éclipse liée à l'introduction de l'analyse quantitative et de l'ordinateur, le croquis de terrain revient avec la relecture des anciens maîtres et le retour du paysage et du sensible dans le champ de la Géographie.
Fichier principal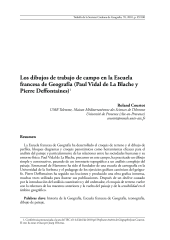 Dibujos Geografia Rev SCG 70 2010 R Courtot.pdf (5.18 Mo)
Télécharger le fichier
Origin : Files produced by the author(s)