On the margins of standard compounding: the phrasal compound adjective playing with the norms
This article investigates the boundary between acceptable and unacceptable phrasal compound adjectives in pre-nominal position. Considered marginal by many existing studies, the phrasal compound is often said to be non-standard; phrasal compounding consists of the linking of several lexical elements linked together, usually by multiple hyphenation. First, this article will explore the ways in which this multi-faceted element is defined in the existing literature; I will seek to determine if the phrasal compound could potentially become part and parcel of the existing definitions and typologies of compounding. Then, I will consider whether phrasal compound adjectives are still considered marginal when they occur in works of literature.
Cet article a pour objectif d'étudier à quel point les frontières de la notion que l'on appelle composition sont solides, en étudiant la forme surcomposée lorsqu'elle se trouve en position adjectivale. De nombreuses études considèrent ce format comme marginal et ne respectant pas les normes propres à la composition ; le mot surcomposé consiste en une concaténation d'éléments lexicaux qui se trouvent liés ensemble, généralement par le recours au trait d'union à répétition. Dans un premier temps, cet article explorera la manière dont cette construction multiple est définie par la littérature existante ; nous tenterons de déterminer si la forme surcomposée pourrait potentiellement faire partie intégrante des définitions et des typologies existantes de la 'composition'. Par la suite, notre article se proposera d'étudier des exemples tirés de quatre œuvres littéraires du vingtième siècle, avec en tête la question : est-ce que les adjectifs surcomposés à plusieurs éléments sont toujours marginaux lorsqu'ils sont insérés dans des contextes littéraires adéquats ?
Fichier principal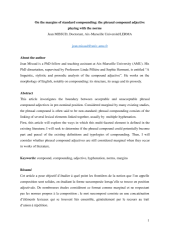 Article e-rea Missud FINAL.pdf (302.4 Ko)
Télécharger le fichier
Origin : Files produced by the author(s)