Influence of aridity on fungal arbuscular mycorrhizal variation in five natural Algerian populations of the Atlas Pistachio (Pistacia atlantica Desf.).
Influence de l'aridité sur la variation de la colonisation mycorhizienne arbusculaire chez cinq populations naturelles algériennes du pistachier de l'atlas (pistacia atlantica desf.)
Influence of aridity on fungal arbuscular mycorrhizal variation in five natural Algerian populations of the Atlas Pistachio (Pistacia atlantica Desf.).-Because of its powerful rooting system, Atlas pistachio tree plays an important role against soil erosion and desertification which constantly threatens the arid and Saharan regions. In this work, the variation of mycorrhization parameters (mycorrhizal rate, colonization intensity, arbuscular and vesicular content) are studied according to the seasonal and bioclimates variation, in order to understand the best conditions for the establishment of the symbiosis in this species. The physico-chemical properties of soils (pH, electric conductivity, organic matter and total limestone amount) were determined for five sampling sites. Spores harvested fungi from the rhizosphere area were morphologically identified, and the specific diversity of mycorrhizal fungi was measured in the different sites. Microscopic observations of the roots revealed the presence of arbuscular mycorrhizal fungi (AMF). The frequency of mycorrhization and the intensity of colonization are higher in the arid bioclimate, characterized by alkaline soils, low organic matter with relatively low levels of calcium carbonates. A total of 19 species of mycorrhizal fungi has been isolated. This set is dominated by two families (Gigasporaceae and Glomeraceae) but the most common genus is Gigaspora. Analysis of Variance (bioclimate factor and bioclimate x season interaction) showed a very significant difference for the frequency of mycorrhization and highly significant difference for soil variables. The Fisher (LSD) test revealed the presence of heterogeneous groups for all studied parameters except for the vesicle amount. PCA, as well, showed an aridity gradient on the first axis and a thermic gradient on the second one.
Grâce à son système racinaire très puissant, le Pistachier de l'Atlas joue un rôle important contre l'érosion des sols et dans la lutte contre la désertification qui menace constamment les régions arides et sahariennes. On se propose ici d'étudier la variation des paramètres de mycorhization (fréquence de mycorhization, intensité de colonisation, teneur arbusculaire et vésiculaire) en fonction des saisons et des stations (caractérisées par leur bioclimats), afin de mieux cerner les conditions de l'établissement de la symbiose chez cette espèce. Les propriétés physico-chimiques (pH, conductivité électrique, matière organique et calcaire total) des sols ont été déterminées pour cinq sites d'échantillonnage. Des spores de champignons récoltées dans la rhizosphère de l'espèce étudiée ont fait l'objet d'une identification morphologique afin de mesurer la diversité des espèces de champignons mycorhiziens. Les observations microscopiques des racines ont révélé la présence de champignons mycorhiziens arbusculaires (CMA). La fréquence de mycorhization et l'intensité de colonisation sont plus importantes dans le bioclimat aride, caractérisé par des sols alcalins, pauvres en matière organique avec des taux relativement faibles en carbonates de calcium. Un total de 19 espèces de champignons mycorhiziens a été isolé. Cet ensemble est dominé par deux familles (Gigasporaceae et Glomeraceae) et le genre Gigaspora. L'analyse de la variance (facteur station et l'interaction station x saison) montre une différence très significative pour la fréquence de mycorhization et hautement significative pour les variables du sol. Le test Fisher (LSD) a révélé la présence de groupes hétérogènes pour tous les paramètres étudiés, excepté pour la teneur vésiculaire. Concernant l'ACP, celle-ci traduit un gradient d'aridité croissant, sur l'axe 1 et un gradient thermique hivernal croissant sur l'axe 2.
Fichier principal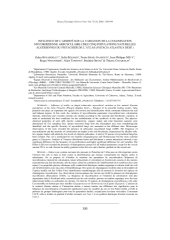 BOUABDELLI_RevuedEcologie_2018_73_3_330.pdf (788.99 Ko)
Télécharger le fichier
Origin : Files produced by the author(s)