AFFIRMATION RELIGIEUSE, POLITIQUE PUBLIQUE ET ALTERNANCE POLITIQUE AUX ETATS-UNIS
This article is focusing on the religious variable in the Republican and Democratic parties' identity since the 1990s. The two parties generated contradictory public policies depending on the political game in the Congress, between the Congress and the President, and consequently on the Supreme Court's activity. Two uses of religious references and two types of public antagonistic policies will be drawn. Finally, the article will examine the future of this solidly constructed opposition, because its logic shall soon be updated, if the parties want to gain or to keep their voters in the religious and demographic change of the country.
Cet article s'intéresse au poids de la variable religieuse dans l'identité des partis républicains et démocrates depuis les années 1990 puis dans la politique publique qu'ils ont générée au gré du jeu politique au Congrès, entre Congrès et Président et que la Cour Suprême a approuvée ou invalidée. Nous verrons se dessiner clairement deux usages de la référence religieuse et deux types de politiques publiques presque aux antipodes. Nous nous interrogerons enfin sur l'avenir de cette opposition solidement construite, parce que sa logique risque bientôt de s'enrayer face à une réalité religieuse et démographique en pleine transformation.
Fichier principal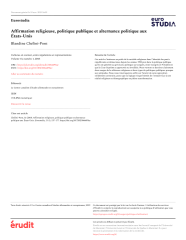 Affirmation religieuse, politique publique et alternance politique aux Etats-Unis.pdf (488.71 Ko)
Télécharger le fichier
Origin : Files produced by the author(s)