Reappraisal of a literary topos: the medieval found manuscript. The case of Marie-Jeanne L'Héritier de Villandon and the Gallaup de Chasteuil brothers
From the end of the 16th century to the beginning of the 18th century, over three generations, the Gallaup de Chasteuil family built an important private library that gives keys to understand the reception of medieval texts during the Ancien Régime, in a provincial French literate milieu, in Aix. Those bibliophilic jurists collected an impressive amount of medieval printed books and manuscripts that they read, annotated and recomposed. The scrutiny of this library and the analysis of some books it contained (that had never been identified as such until now) is an extremely valuable tool for the understanding of the reception and the reading of medieval texts. This article sheds light on this library, on the Gallaup de Chasteuil Family and on the specific way that they considered the medieval literary fact.
Sur trois générations, de la fin du XVIe siècle au début du XVIIIe siècle, la famille Gallaup de Chasteuil a constitué une bibliothèque privée d'une importance capitale pour comprendre la réception des textes médiévaux sous l'Ancien Régime, dans un milieu de lettrés de province, à Aix. Ces juristes bibliophiles ont en effet collectionné un nombre considérable de manuscrit et d'imprimés médiévaux, qu'ils ont lus, annotés et recomposés. L'étude de cette bibliothèque et de certains de ses exemplaires conservés, qui n'avaient jamais été identifiés comme tels jusqu'à présent, est extrêmement précieuse pour comprendre une réception et une lecture de textes médiévaux. Cet article propose un aperçu de cette bibliothèque, la famille Gallaup de Chasteuil et une lecture des œuvres du Moyen Âge qui témoigne d'une conception spécifique du fait littéraire médiéval.
Fichier principal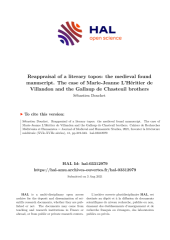 Reappraisal-1.pdf (38.25 Mo)
Télécharger le fichier
Origin : Files produced by the author(s)