Visualizing electron delocalization in contorted polycyclic aromatic hydrocarbons
Electron delocalization in contorted polycyclic aromatic hydrocarbon (PAH) molecules was examined through 3D isotropic magnetic shielding (IMS) contour maps built around the molecules using pseudo-van der Waals surfaces. The resulting maps of electron delocalization provided an intuitive, yet detailed and quantitative evaluation of the aromatic, non aromatic, and antiaromatic character of the local and global conjugated cyclic circuits distributed over the molecules. An attractive pictural feature of the 3D IMS contour maps is they are reminiscent of the Clar π-sextet model of aromaticity. The difference in delocalization patterns between the two faces of the electron circuits in contorted PAHs was clearly visualized. For π-extended contorted PAHs, some splits of the π system resulted in recognizable patterns typical of smaller PAHs. The differences between the delocalization patterns of diastereomeric chiral PAHs could also be visualized. Mapping IMS on pseudo-van der Waals surfaces around contorted PAHs allowed visualizing their superimposed preferred circuits for electron delocalization and hence their local and global aromaticity patterns.
La délocalisation des électrons dans les hydrocarbures aromatiques polycycliques (HAP) déformés a été analysée à l'aide de cartes de contour de blindage magnétique isotrope (IMS pour isotropic magnetic shielding) en 3D construites autour des molécules à l'aide de surfaces pseudo-van der Waals. Les cartes de délocalisation électronique qui en résultent fournissent une évaluation intuitive, mais détaillée et quantitative du caractère aromatique, non aromatique et antiaromatique des circuits conjugués locaux et globaux distribués sur les molécules. Une caractéristique attrayante des cartes de contour IMS 3D est qu'elles rappellent le modèle du sextet de Clar. La différence des schémas de délocalisation entre les deux faces des circuits électroniques dans les HAP déformés a été clairement visualisée. Pour les HAP déformés π-étendus, certaines scissions du système π ont donné lieu à des motifs reconnaissables typiques de plus petits HAP. Les différences entre les schémas de délocalisation des HAP chiraux diastéréoisomères ont également pu être visualisées. La cartographie de l'IMS sur les surfaces de pseudo-van der Waals autour des HAP déformés a permis de visualiser leurs circuits superposés privilégiés pour la délocalisation des électrons et donc leurs modèles d'aromaticité locaux et globaux.
Fichier principal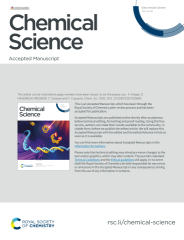 d1sc03368a.pdf (2.74 Mo)
Télécharger le fichier
Origin : Publisher files allowed on an open archive