Les stratégies financières de crise
A financial strategy must result in the meeting of an offer with a demand for funds by specifying the specific conditions of this exchange and we should naturally expect that times of crisis will see the emergence of specific strategies. To assess the relevance of these strategies, we recall the principles for a sound financing, emphasizing the importance of the quality of information available. Secondly, we look at the role that the State can play in terms of financing (sections 2 and 3). Finally, in order to correctly compare the different strategies, it is essential to take into account the benefits but also the costs - direct but, more importantly, indirect - of these strategies (section 4). Taking all these parameters into account leads us to the greatest skepticism regarding the strategies that have had the preferences of many States since the onset of the crisis of 2020.
Une stratégie financière doit aboutir à la rencontre d'une offre avec une demande de fonds en spécifiant les conditions spécifiques de cet échange et on doit naturellement s'attendre à ce que les temps de crise voient émerger des stratégies spécifiques. Pour apprécier la pertinence de ces stratégies nous rappelons les principes du financement des activités économiques en soulignant l'importance de la qualité de l'information des décideurs. Dans un deuxième temps nous nous penchons sur le rôle que l'État peut jouer en matière de financement (sections 2 et 3). Afin de correctement comparer les différentes stratégies de financement il est essentiel de prendre en compte les bénéfices mais aussi les coûts – directs mais, plus important encore, indirects – de ces stratégies (section 4). La prise en compte de tous ces paramètres conduit au plus grand scepticisme à l'égard des stratégies qui ont eu les préférences de nombreux États depuis le début de la crise de 2020.
Fichier principal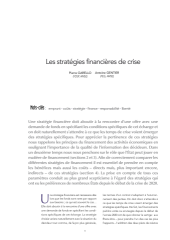 Garello, Gentier_Les stratégies financières de crise_2021.pdf (760.23 Ko)
Télécharger le fichier
Origin : Files produced by the author(s)