What are the types of interactions between digital transformation and resilience?
Quels sont les types d'interactions entre transformation numérique et résilience ?
Many recent events (COVID 19, war, etc.) have created many challenges for humans in general and information systems in particular. This constraint did put the accent on the importance of system resilience and its relation to transformation and digitalization. In this article, we present a review of the literature on the different types of interactions between digital transformation (DT) and resilience. This study consists of 72 articles published between 2010 and 2021 in journals related to information systems (IS) research. The results show that there are many dimensions of DT and resilience. Based on this, we did study the interactions between the different dimensions to improve IS management. A complete list of references is presented. This review will provide a source for anyone interested in the mutual influence between DT and resilience.
De nombreux événements récents (COVID 19, guerre, etc.) ont créé de nombreux défis pour l'humanité en général et le système d'information en particulier. Ces contraintes ont mis l'accent sur l'importance de la résilience des systèmes et sa relation avec la transformation et la numérisation. Dans cet article, nous présentons une revue de la littérature sur les différents types d'interactions entre la transformation numérique (TN) et la résilience. Cette étude se compose de 72 articles publiés entre 2010 et 2021 dans des revues liées à la recherche en systèmes d'information (SI). Les résultats montrent qu'il existe de nombreuses dimensions de la TN et de la résilience. Sur cette base, nous avons étudié les interactions entre les différentes dimensions pour clarifier leurs contributions dans le management des SI. Une liste complète de références est présentée. Cet examen va fournir une source à toute personne intéressée par l'influence mutuelle entre le TN et la résilience.
Fichier principal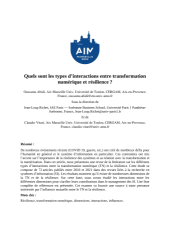 Abidi 2022AIM What are the types of interactions.pdf (231.78 Ko)
Télécharger le fichier
Origin : Files produced by the author(s)