Prendre au sérieux les pratiques des juristes
Formalism is here understood as a practice that relies on a representation of the legal system as complete and of adjudication as a mechanical exercise. Scholars have often criticised and even made a fool of formalism. Taking insights from recent works in anthropology and sociology, I argue that instead of assessing formalism from an external point of view, we should take its meaning for the participants in legal practice seriously, or to say it differently, we should understand formalism on its own terms.
Le formalisme, au sens des approches qui perçoivent le système juridique comme un système complet ou qui conçoivent l'interprétation et le raisonnement juridique comme particulièrement déterminé, a souvent été tourné au ridicule. Il est proposé dans cet article de le concevoir comme une pratique des formes possibles parmi d'autres et de le prendre au sérieux ou, pour le dire autrement, de le comprendre dans ses propres termes. Plutôt que de comparer le formalisme à des pratiques présentées comme complètement irrationnelles et absurdes, il est suggéré de tirer parti des travaux contemporains en sciences sociales, notamment sur la religion ou d'autres formes de croyances, pour changer de perspective sur les pratiques de juristes.
Fichier principal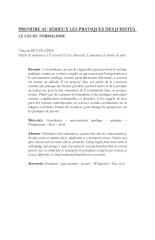 Prendre au sériaux_REVEILLERE.pdf (2.32 Mo)
Télécharger le fichier
Origin : Publisher files allowed on an open archive