The wrong way : when individuals and groups transgress in order to create and maintain meaning in their work.
A contre-sens : lorsque les individus et les collectifs transgressent en vue de créer et maintenir du sens dans leur travail.
Our research proposes to study how transgressive practices allow professionals in the Reception Center for Asylum Seekers to create and maintain meaning in their work. These actors are increasingly considered as agents of migration policies (Daadouch, 2017), which calls into question the meaning they give to their work and which seems to be found only at the cost of a certain disobedience. It is precisely this relationship that we are studying in this thesis. Meaning at work is a social construct that develops in the interaction between the individual and his work environment (Isaksen, 2000). However, it is possible for managers to create favorable conditions to the experience of meaningful work. (Frémeaux and Michelson, 2017). The objective of this construction of meaning, through the sensemaking (Weick, 1995), being organizational resilience, we believe that transgression, defined as a deviation from the norm based on the interaction between a person and situations (Pesqueux, 2010), can be a new source. To carry out this doctoral work, we decided to realize an action research (Pasmore et al., 2008). This work allows us to observe that asylum professionals experiencing loss of meaning are using transgressive practices, mostly collective, to remedy this. The transgression is thus understood as a means of adapting the rule in order to make real work more in line with the values of individuals and the collective. Our thesis thus makes it possible to enrich the literature on transgression by highlighting its collective dimension and its contribution as beliefs and actions during the sensemaking process. Beyond that, our doctoral work helps to shed light on a new field of study for Management Sciences and proposes a new category of direct participant observation.
Notre recherche propose d'étudier en quoi les pratiques transgressives permettent aux professionnels en Centre d'Accueil de Demandeurs d'Asile (CADA) de créer et maintenir du sens dans leur travail. En effet, ces acteurs sont de plus en plus considérés comme des agents des politiques migratoires (Daadouch, 2017), ce qui remet en cause le sens qu'ils accordent à leur travail et qui ne semble pouvoir être retrouvé qu'au prix d'une certaine désobéissance. C'est précisément cette relation que nous étudions dans cette thèse. Le sens dans le travail est une construction sociale qui s'élabore dans l'interaction entre l'individu avec son environnement de travail (Isaksen, 2000). Cependant, il est possible pour les managers de créer des conditions favorables à l'expérience d'un travail significatif (Frémeaux et Michelson, 2017). L'objectif de cette construction de sens, à travers le sensemaking (Weick, 1995), étant la résilience organisationnelle, nous pensons que la transgression, définie comme un écart à la norme reposant sur l'interaction entre une personne et des situations (Pesqueux, 2010), peut en être une nouvelle source. Pour mener à bien ce travail doctoral, nous avons décidé de réaliser une recherche-action (Pasmore et al., 2008). Ce travail nous permet d'observer que les professionnels de l'asile en proie à la perte de sens usent de pratiques transgressives, majoritairement collectives, pour y remédier. La transgression est ainsi appréhendée comme un moyen d'aménager la règle afin de faire correspondre davantage le travail réel aux valeurs des individus et du collectif. Notre thèse permet ainsi d'enrichir la littérature relative à la transgression en mettant en avant sa dimension collective et sa contribution comme croyances et actions lors du processus de sensemaking. Au-delà, notre travail doctoral contribue à mettre en lumière un nouveau terrain d'étude pour les Sciences de Gestion et propose une nouvelle catégorie d'observation directe participante.
Fichier principal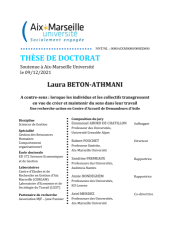 Thèse Laura BETON ATHMANI.pdf (7.58 Mo)
Télécharger le fichier
Origin : Files produced by the author(s)