EN TORNO A LA CULTURA POLÍTICA DE LA ALTA MAGISTRATURA
One of the most striking facts in the political history of the monarchy in early modern Spain is the growth of a significant state bureaucracy. At the same time, there occurred an intensive reflection on justice, law and government which led to the publication of numerous political and legal treatises. If we know, at least theoretically, how the main institutions of the government worked, we are still ignorant about much concerning the social and cultural profile of the royal officials of the monarchy. Firstly, the goal of this contribution is to offer an analysis on a particular kind of bureaucrats, namely the lawyers, by placing them in their political and institutional context and by highlighting the differences and similarities compared to the other royal officials. Secondly, if one takes the premise that the main characteristic of the lawyers was their knowledge, we will try to put forward a number of arguments in order to analyze the elusive and complex political culture of the lawyers in those days.
Resumen: Uno de los hechos más llamativos en la historia política de la Monarquía Hispánica durante la primera modernidad (siglos XVI y XVII) es el desarrollo conjunto de una importante burocracia de Estado y de una intensa labor de reflexión sobre la justicia y el gobierno que se plasma en la tratadística jurídica y política española. Si es relativamente bien conocido el fun-cionamiento, por lo menos teórico, de las principales instituciones de gobierno, aún quedan la-gunas en nuestro conocimiento del perfil social y cultural de los oficiales reales de la monar-quía. En primer lugar, el objetivo de esta contribución es proponer una reflexión sobre ese tipo particular de burócratas que eran los letrados, situándolos en el contexto político-institucional en que ejercían su actividad y poniendo de realce lo que los distinguía de los demás oficiales reales y lo que los acercaba a ellos. En segundo lugar, partiendo de la idea según la cual el ras-go más significativo de los letrados era la posesión de un saber, dedicaremos nuestra atención al estudio de ese objeto, escurridizo y problemático, que es la cultura de la magistratura. Palabras claves: Edad Moderna, estado, gobierno, administración, letrados, cultura jurídica y política, pensamiento político.
Fichier principal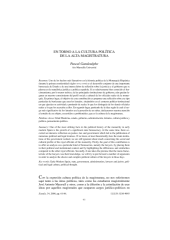 061-86 Gandoulphe, P..pdf (283.41 Ko)
Télécharger le fichier
Origin : Publisher files allowed on an open archive