Le jeu comme « leurre » et le démenti
In the cure, according to our hypothesis, the games played by children obey different unconscious logics, which reveals the importance of envisioning the reception of different types of play in the cure. We propose a Freudian-inflected " structural classification of play, " drawing upon similar attempts made by Piaget for developmental psychology, and Caillois for sociology. We will consider that certain play follows a logic of negation (Verneinung) Ŕ play that we call " trompe-l'oeil " games; or a logic of disavowal (Verleugnung) Ŕ " decoy " games; or a logic of foreclusion (Verwerfung) Ŕ " suppléance " games. This article develops the type of play associated with the mechanism of disavowal: the game as decoy. We draw upon and analyse an example from the literature Ŕ that of Arpad, the " little chanticleer " received by S. Ferenczi in 1913. The examination of this case allows us to clarify the reasons for which such games can be an obstacle to the cure, as well as to the establishment and development of the transference. We will be led to cast doubt upon the possibility of considering such play to be " therapeutic " in the sense of winnicottian playing. Following the hypothesis that such play does not favour subjective change, we will propose a comparison with " trompe-l'oeil " and " suppléance " games.
Les jeux, dans la cure des enfants, obéissent, selon notre hypothèse, à des logiques inconscientes différentes, ce qui se révèle, selon nous, d'une importance décisive pour envisager leur accueil dans la cure. Aussi proposons-nous une classification structurale des jeux qui épouse le champ freudien, de même que Piaget l'avait tenté pour la psychologie développementale et Caillois pour la sociologie. Nous considérons ainsi que certains jeux obéissent à une logique de dénégation (Verneinung), jeux que nous baptisons jeux « trompe-l'oeil », d'autres à une logique de démenti (Verleugnung), jeux que nous baptisons jeux « leurres » et d'autres à une logique de forclusion (Verwerfung), jeux que nous proposons de nommer jeux « suppléances ». Cet article développe le type de jeux associé au mécanisme du démenti : le jeu comme leurre. Un exemple de la littérature est, à cet effet, convoqué et analysé, celui d'Arpad, le « petit homme-coq » reçu en 1913 par S.Ferenczi. L'approfondissement de ce cas ainsi que l'analyse de la physionomie des jeux « leurres » nous permettent de dégager les raisons pour lesquelles de tels jeux peuvent faire obstacle à la cure ainsi qu'à l'instauration, au développement et à l'analyse du transfert. Sera, de ce fait, mise en doute la possibilité de considérer de tels jeux comme « thérapeutiques » au sens où Winnicott l'affirme du playing. Faisant l'hypothèse que de tels jeux ne sont pas propices à une mutation subjective, nous serons amenés à opposer ceux-ci aux jeux « trompe-l'oeil » et aux jeux « suppléance ».
Fichier principal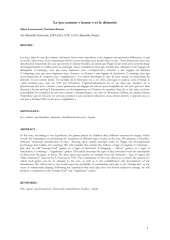 lenormand-bonnet le jeu et le démenti Evolution psychiatrique - définitif.pdf (305.79 Ko)
Télécharger le fichier
Origin : Files produced by the author(s)