Psychopathologie des conduites à risques
Description of risk-taking behaviours (repeated suicide attempts, addictions with or without drugs, some sports activities, some forms of car driving, some games as " russian rulet ") shows two possibilities: risk denial (non recognition of risk) and risk challenge (recognition of risk). From a clinical point of view, the description of those behaviours needs the recognition of difference between post-modern cultural activities and pathological behaviours. Concept of " risk " was not regarded as a good principle of classification before, and the class of " risk taking behaviours " is a new category of diseases. In the past, risk-taking behaviours have been considered as indirect self-destructive behaviours or as addictions. Now, that class of pathological behaviours is autonomous and requires, as characteristic, the active search of danger without precaution. Generally, risk-taking behaviours begin with an " initiation experience " , which is keeping a high psychical importance, patients trying to obtain the same satisfaction by repetition of acts. Psychopathological interpretation leads to different patterns: 1/ sensation seeking, and opposition between sensations and emotions, 2/ mastery of libidinal excitation, 3/ " ordalic " behaviour, and 4/ new libidinal economy and repetition. The first conception is based on Zuckerman theory (" sensation seeking theory "). Some patients may experience a low level of cortical arousal and risk-taking behaviours may help them in producing excitation. This theory could explain some parts of those behaviours. But an additional factor is necessary: the opposition between sensations (physiological) and emotions (psychical, affects, feelings). The main problem is that taking risk patients suffer from experiencing emotions, which threaten them and try to avoid them in producing high sensations. The theory of mastery of libidinal excitation develops the idea that object relationship are threatening the subject who seems unconsciously depending on the libidinal object. Jeammet, Marcelli insist on the default of " narcissic seating " or on the fragility of primary narcissism among those patients. In front of the excitation induced by libidinal objects, a psychical working out is impossible. So the patient tries to control or to avoid the excitation by some acts (acting out). Pleasure of risk-taking behaviours derives from the physical sensations and, above all, from the victory on the power of the libidinal object. Secondary, the pleasure is depending from the attitude of the others: fascination, connection with a group of initiate persons. The theory of ordalic behaviour insists on the problem of identity. Ordalic behaviours are considered as repeated.
La clinique des conduites à risques (tentatives de suicide répétées, addictions avec ou sans produit, certaines conduites sexuelles, certains sports, certaines conduites automobiles, jeux, roulette russe...) montre qu'à côté de situations de méconnaissance (déni du risque), existent bien des comportements dans lesquels le défi du risque est une condition nécessaire. L'interprétation psychopathologique fait appel à quatre modèles différents mais complémentaires : recherche de sensations en maintenant une opposition entre sensations (physiques) et émotions (élaborées psychiquement), tentative de maîtrise de l'excitation provoquée par l'objet libidinal, conduite ordalique permettant un « auto-engendrement » et addiction (économie parallèle de réduction du désir au besoin). Ces modèles ont en commun l'existence de troubles identitaires, la promotion d'une coïncidence avec le Moi-idéal, et de tenter d'éviter l'assujettissement à l'objet.
Fichier principal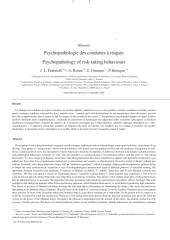 Guy_Gimenez_publication_58_Pedinielli conduites à risques.pdf (396.67 Ko)
Télécharger le fichier
Origin : Files produced by the author(s)