Die Masora von Elijah ha-Naqdan. Eine Edition der mikrographischen aschkenasischen Masora-Anmerkungen.
The Masorah of Elijah ha-Naqdan. An Edition of Ashkenazic Micrographical Notes
La Massore d'Élie ha-Naqdan. Une édition de notes micrographiques ashkénazes
Following Levita's statement, the Masorah transmitted by medieval illuminated manuscripts was generally considered as less significant for the study of the biblical and masoretical knowledge in the Jewish world. The biblical codices produced in Ashkenaz were considerably disregarded compared to Spanish codices. Challenging this assertion, this pioneering work engages in a reflection on the link between the so-called standard Tiberian tradition and the Ashkenazic biblical text-culture of the 13th century. Élodie Attia provides an edition of thirteen cases taken from MS BAV Vat. Ebr. 14, offering the oldest series of Masoretic notes written inside figurative and ornamental designs. Its critical apparatus offers an unprecedented comparison with the oldest Eastern and Ashkenazic sources to evaluate if the scribe paid more attention to aesthetic details than to the textual contents. In an unexpected way, the Masoretic notes of Elijah ha-Naqdan, even written in figurative forms, show a close philological link with the Masorah of the eastern Tiberian sources and prove that the presence of figurative elements neither represents a loss nor a distortion of Masoretic knowledge, but rather illustrates a development in the Masoretic tradition.
Suivant les conclusions de Lévita au XVIe siècle, la massore transmise par les manuscrits médiévaux enluminés a été généralement considérée comme moins importante pour étudier la Bible et le savoir massorétique en monde juif. Les manuscrits bibliques produits en monde ashkénaze ont été ainsi largement déconsidérés par rapport aux codices espagnols. Remettant en cause cette assertion, ce travail pionner engage une réflexion sur le rapport entre la tradition tibérienne orientale dite 'standard' et la culture textuelle ashkénaze de la Bible au XIIIe siècle. Élodie Attia propose l'édition de treize cas pris du manuscrit Ms. BAV Vat. Ebr. 14, offrant la plus ancienne série de notes massorétiques écrites dans des micrographies figurées et ornementales. L'apparat critique présente une comparaison sans précédent entre des sources de la tradition orientale tibérienne et certaines sources ashkénazes pour évaluer si le scribe, Élie ha-Naqdan, privilégiait les éléments esthétiques sur les contenus textuels massorétiques. D'une façon inattendue, les annotations massorétiques d'Élie ha-Naqdan, même écrites dans des formes figurées, montre un rapport philologique étroit à la Massore des sources orientales tibériennes et prouve que la présence d'éléments figurés ne représente ni une perte ou une distorsion du savoir massorétique, mais illustre plutôt un développement interne à la tradition massorétique.
Fichier principal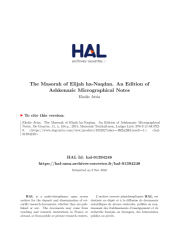 ATTIA2015_MTK11_OpenAccessVersion.pdf (6.68 Mo)
Télécharger le fichier
Origin : Files produced by the author(s)