Organic Views on Institutions: Has Carl Menger Anticipated Complex Adaptive Systems?
La conception organique des institutions de Carl Menger a-t-elle anticipé ce qu'est un système adaptatif complexe ?
For the founder of Austrian economics, Carl Menger (1840-1921), many social institutions are "organic" in origin, not voluntarily created (not "pragmatic"). Today, they may be regarded as complex adaptive systems, pieces of evidence of evolutionism. Money (as Menger sees it) fits such an explanation and bears witness to emerging socio-economic phenomena. We regard present-day evolutionary systems, based upon three principles (variation, interaction and selection) as anticipated by Menger.
Pour le fondateur de l'école autrichienne, Carl Menger (1840-1921), nombre d'institutions sociales sont « organiques », non volontaires (« pragmatiques »). En épistémologie, aujourd'hui, elles peuvent s'interpréter comme systèmes adaptatifs complexes. Ainsi la monnaie selon Menger. On la confronte ici aux systèmes adaptatifs complexes vus comme évolutifs et fondés sur trois principes fondamentaux : variation, interaction et sélection. Menger les anticipe ou du moins conduit à eux en droit fil.
Fichier principal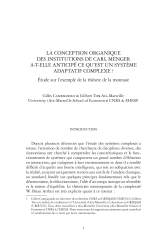 La conception organique des institutions de Carl Menger a-t-elle anticipé ce qu'est un système adaptatif complexe.pdf (878.02 Ko)
Télécharger le fichier
Origin : Files produced by the author(s)