Optimiser l'accès aux ressources sur les territoires dans un contexte contraint. Exemple des services de soins pour jeunes handicapés
The geographical locations of care services for disabled children (called by the acronym Sessad in French) in the region Provence-Alpes-Côte d'Azur seem to be in agreement with the need for support: 93 % of accompanied children live within 30 minutes of a specialized service. However, only 69 % of the children are followed by a service situated less than 30 minutes away from their town of residence. The analysis of the travel, using GIS modelling, allowed offering an optimization of the relationship children - Sessad, using several scenarios. This geographical approach allowed new affectations for those children, according to their town of residence, and new locations for zones with low rates of specialized care services (Sessad) to be proposed. Improving access to those specialized services is possible, while releasing time for therapy or education.
L'implantation géographique des services à domicile pour enfants et adolescents handicapés (Sessad) en région Provence-Alpes-Côte d'Azur semble en accord avec les besoins d'accompagnement : 93% des enfants accompagnés vivent à moins de 30 minutes d'un Sessad. Cependant seuls 69% des enfants sont accompagnés par un service implanté à moins de 30 minutes de leur domicile. L'analyse des déplacements, au moyen d'une modélisation par SIG, a permis de proposer une optimisation des relations enfants – Sessad, au moyen de plusieurs scénarios. De nouvelles affectations ont été proposées pour les enfants en fonction de leurs lieux de résidence et de nouvelles implantations pour les zones repérées comme dépourvues de service. Il est possible alors d'améliorer l'accès aux services, afin de dégager plus de temps éducatif ou thérapeutique.
Fichier principal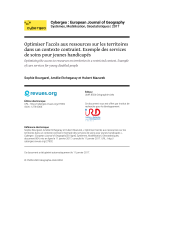 cybergeo-27902.pdf (1.18 Mo)
Télécharger le fichier
Origin : Publisher files allowed on an open archive