Crise et catastrophe dans la pensée de Nietzsche
Painful and destructive, the "death of God" takes, for Nietzsche, the function of a catastrophe in the very sense recognized by Aristotle: the pathetic event from which comes the sudden end of the tragedy. In this case, it throws the Western Man into nihilism, starting its decline. Thus, nihilism is interpreted as illness, exhaustion of all creative power. It will provoke an unprecedented salutary crisis that opens up to man the prospect of an overcoming. Nihilism ends with the inversion of the will of nothing into the will of an eternal return. From the historical point of view, this follows from the very law of time: eternal destruction and selfcreation are the same. Life is a catastrophe that is constantly replayed, constantly outdated. In this paper, we analyze how Nietzsche discerned the origins of a redemptive crisis from the catastrophe of God's death and its ultimate consequences. We will interpreter the two decisive moments in the history of nihilism — the catastrophe and the crisis — by means of two paradigms inherited from the ancient culture: tragedy and medicine.
Résumé : Douloureuse, destructrice, la mort de Dieu endosse, chez Nietzsche, la fonction de la catastrophe au sens que reconnaît Aristote à l'évènement pathétique dont découle le dénouement de la tragédie. En l'occurrence, elle jette l'homme occidental dans le nihilisme et amorce son déclin. Le nihilisme est alors interprété comme maladie, épuisement de toute puissance créatrice. Il va provoquer une crise salutaire sans précédent qui ouvre à l'homme la perspective de se surmonter. Le nihilisme s'achève par l'inversion de la volonté de néant en volonté de l'éternel retour. Il se vainc lui-même à l'heure de la pensée de midi. Se joue ainsi, sur le plan historique, ce qui découle de la loi même du temps : l'éternelle destruction et création de soi ne font qu'un. La vie est une catastrophe sans cesse rejouée, sans cesse dépassée. Nous analysons, dans cet article, comment Nietzche discerne, à partir de la catastrophe de la mort de Dieu et de ses ultimes conséquences, l'origine d'une crise rédemptrice, interprétant les deux moments décisifs de l'histoire du nihilisme, la catastrophe et la crise, au moyen de deux paradigmes hérités de la culture antique, dramatique, pour le premier, médical, pour le second.
Fichier principal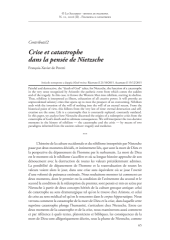 2016-21-Peretti. Crise et catastrophe dans la pensée de Nietzsche.pdf (100.97 Ko)
Télécharger le fichier
Origin : Publisher files allowed on an open archive