Logique aristotélicienne et kalām ʿalā-l-naṣ ārā : la réponse à Abū Qurra dans le Muġ nī de ʿAbd al-Ğabbār
Ending his refutation of Christian theology in al-Muġ nī fī abwāb al-tawḥ īd wa-l-ʿadl (written between 361-380/971-990), ʿAbd al-Ğabbār assumes the reasons given by an unknown author against Abū Qurra, bishop of Ḥ arrān (d. ca 210/825). According to Abū Qurra, God needs an eternal Son in order to have an equal to " dominate " , lest he should be deprived of honor and sovereignty. The unknown author laughs at this need of a subject God and Son, and argues throughout against this thought out of the Aristotelian category of " relative ". ʿAbd al-Ğabbār's text, compared to Abū Qurra's two treatises on this theme, shows up that it may be based on a lost Arabic treatise (known today through its Greek translation). The unknown author might be the theologian al-Murdār (m. 226/840), whose treatise Against Abū Qurra is recorded by al-Nadīm.
À la fin de sa réfutation du christianisme dans al-Muġ nī fī abwāb al-tawḥ īd wa-l-ʿadl (rédigé entre 361-380/971-990), ʿAbd al-Ğabbār reprend une argumentation dirigée contre l'évêque de Ḥ arrān, Abū Qurra (m. v. 210/825). Pour Abū Qurra, Dieu aurait besoin d'un Fils éternel pour pouvoir avoir domination sur un égal (sinon il serait privé d'une souveraineté honorable) : le réfutateur musulman tourne en ridicule ce besoin d'un « dominé » en Dieu. C'est autour du statut du relatif dans les Catégories d'Aristote que se construit cette réfutation. La comparaison du texte de ʿAbd al-Ğabbār avec les deux traités d'Abū Qurra sur le sujet montre que le texte aujourd'hui perdu en arabe (mais conservé en grec) est probablement la cible du réfutateur. Le théologien muʿtazilite al-Murdār (m. 226/840) pourrait être ici la source de ʿAbd al-Ğabbār, comme le signale al-Nadīm.
Fichier principal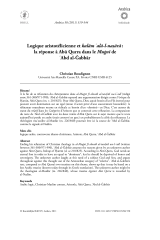 Logique_aristotelicienne_et_kalam_ala-l-.pdf (504.07 Ko)
Télécharger le fichier
Origin : Explicit agreement for this submission