Latin American Countries in Financial Globalization: Do We Have Learned from Past Crises?
L'Amérique latine dans la globalisation financière : a-t-on appris des crises passées ?
This paper discusses the monetary and exchange policies followed by Latin American countries during the financial crises that have appeared each decade since the beginning of the 1980s. We examine the implications of a phenomenon defined by Reinhart as "this time is different". In particular, we report errors in the diagnosis of the structural causes of past financial crises, and the damages caused by the choice of fixed exchange rates. The article also looks at the problems facing the countries today: the resource curse, the dilemma between currency appreciation and financial bubbles, inflation targeting policy. We suggest that governments have learned from past crises, by further anchoring their financial policies to the reality of their economies: the exchange rate regime is no longer the guiding element of inflation policy, loans in local currency have increased due to the rise in domestic bond markets, monetary policies have remained accommodative during the 2008 financial crisis, and central banks have used swap agreements to meet their needs of international currencies.
Cet article propose une réflexion des politiques monétaires et de change suivies par les pays d'Amérique latine lors des crises financières, qui sont apparues au cours de chaque décennie, depuis le début des années 1980. Il expose ce qu'a impliqué le syndrome que Reinhart expose par « cette fois-ci, les choses sont différentes ». Sont développées notamment les erreurs de diagnostic sur les causes structurelles des crises, les dommages causés par la volonté de maintenir un taux de change fixe par rapport au dollar au moment fort des crises. L'article se penche également sur les problématiques auxquelles les pays font actuellement face : la malédiction des ressources, le dilemme entre appréciation monétaire et bulles financières, les enjeux du ciblage d'inflation. Nous suggérons que les gouvernements ont appris des crises passées, en ancrant davantage les politiques financières sur la réalité de leurs économies : le régime de change n'est plus l'élément guidant la politique de lutte contre l'inflation, les prêts en monnaie locale ont augmenté grâce à l'essor des marchés obligataires domestiques, la politique monétaire est demeurée accommodante au cours de la crise financière de 2008, des accords de swaps entre banques centrales sont conclus pour répondre aux besoins de devises internationales.
Fichier principal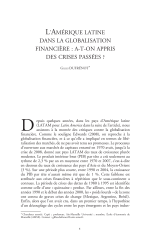 L'Amérique latine dans la globalisation financière.pdf (668.5 Ko)
Télécharger le fichier
Origin : Files produced by the author(s)