Croûtes calcaires quaternaires du piémont nord des Aurès (Algérie)
Zwei quartäre Fussflächen, die eine aus dem Moulouyen (unteres Quartär), die andere aus dem Amirien (mittleres Quartär), tragen Kalkkrusten verschiedenartiger Fazies. Aus ihrer Beobachtung im Dunnschliff folgert : - dass es sich um palustrisch-lakustriche Ablagerungen handelt, was auf ein von dem heutigen verschiedenes, durch subsidente Wannen gekennzeichnetes Relief schliessen lässt, - dass am Ende resp. des Moulouyen und des Amirien aride Phasen mit äolischer Aktivität bestanden.
Two Quaternary pediments on marl, that of Moulouyan age (Lower Quaternary) and that of Amirian age (Middle Quaternary) are capped by calcretes of different types. Thin slide observation evidentiates : - their palustrine-lacustrine genesis, which is a sign of subsident basins, say a topography different from the actual one, - the existence of arid phases with aeolian activity at the end of respectively the Moulouyan and the Amirian
Sur le piémont nord des Aurès deux glacis quaternaires, l'un moulouyen (Quaternaire inférieur), l'autre amirien (Quaternaire moyen), portent des croûtes calcaires à faciès variés. L'étude en lame mince de ces croûtes permet de mettre en évidence : - leur nature palu-lacustre, qui implique une topographie différente de l'actuelle, avec des cuvettes à tendance subsidente, - l'existence de phases arides à activité éolienne à la fin du Moulouyen et de l'Amirien.
Fichier principal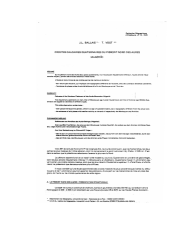 Croûtes calcaires quaternaires du piémont Nord des Aurès (Algérie).pdf (47.72 Mo)
Télécharger le fichier
Origin : Files produced by the author(s)