Evolution du Sahara tunisien au Pléistocène récent et à l'Holocène
In the Neo-Cretaceous monoclinal plateau of the Dahar, the altitude progressively decreases from some 600 m in the N-E to some 250 m at the "Erg Oriental" border. A semi-extinct subsequent hydrographic system has been cut in the plateau during interglacial pleistocene phases. It was partially infilled of reddish sand in the Late Pleistocene dry period. With the Early Holocene humid phasis, terraces and fluvio-lacustrine deposits have been formed along the main ouadis, overlain by a travertine in some places, and associated with lamellar artefacts. Near the border of the Erg, paleolakes were formed by brakish waters (Cerastoderma glaucum). The holocene arid period caused the movement of sands forming the new ergs of Jeneien and Lorzot and the "remlas".
Le Dahar est un vaste plateau monoclinal de Crétacé supérieur s'abaissant vers le Sud-Ouest, sous le Grand Erg Oriental. Le vannage des sédiments de l'Erg s'est terminé au Pléistocène moyen. Le creusement du réseau fluviatile subséquent du Dahar s'est effectué au Pléistocène moyen (conglomérats encroûtés) puis au début du Pléistocène supérieur avec un colmatage local par des sables rougeâtres. Au début de l'Holocène une phase humide se manifeste par des dépôts fluvio-lacustres le long des grands oueds, parfois couronnés de travertins et associés à des industries à lamelles. Dans les dépressions en bordure du Grand Erg se sont développés des lacs saumâtres à Cerastoderma glaucum. Lors de l'aridification holocène les dunes récentes et les ramlas ont envahi le paysage précédent.
Fichier principal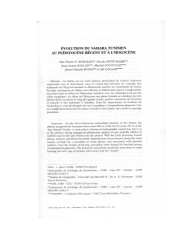 Evolution Sahara tunisien.pdf (12.73 Mo)
Télécharger le fichier
Origin : Explicit agreement for this submission