La terrasse du Plan de Dieu : contraintes, occupation du sol, aménagement
The Plan de Dieu is a dry terrace of the Riss and Würm, situated on the left bank of the Rhône, between the rivers Ouvèze and Aigues, which has many rich agricultural soils at its centre. The exchange of energy and matter between the terrace and its surrounding environment allows us to define its agronomical characteristics. Human occupation during different periods is characterized by settlements along the periphery of the terrace, and by the exploitation of at least three types of complementary soils. On the surface of the terrace, a centuriation, local and regional roads, and Gallo-Roman drainage systems are remarkably preserved. Archaeological survey enables us to study the control of water, the spatial organisation of agriculture and the continued exploitation of the terrace, which was used as a source of lumber and for pasture.
Le Plan de Dieu est une terrasse sèche située dans la moyenne vallée du Rhône. Des contraintes permanentes telles que pente et granulométrie ne varient pas à l'échelle historique ; d'autres contraintes, liées à l'anthropisation du milieu, sont bien mieux perceptibles. L'archéologie et la prospection rendent compte d'une intense occupation de la périphérie de la terrasse, tels aménagements agraires, implantations humaines et tentatives de contrôle de l'eau.
Fichier principal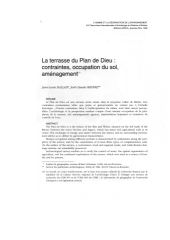 La terrasse du Plan de Dieu - contraintes, occupation du sol, aménagement.pdf (27.84 Mo)
Télécharger le fichier
Origin : Explicit agreement for this submission