L'origine des limons sableux éoliens des Monts de Matmata (Tunisie)
It is generally assumed that the so-called "peridesertic loess" Matmata aeolian sandy silts, in South Tunisia, came from the Grand Erg Oriental, at the West-South-West. On the contrary, I try to demonstrate that these sandy silts came from the northern steppes and salt playas. I will use geomorphological and mineralogical datas.
Les limons sableux éoliens de Matmata (Tunisie) sont réputés être des "loess péri-désertiques" provenant du Grand Erg Oriental, à l'ouest-sud-ouest. Je me propose de montrer que, au contraire, ces limons sableux proviennent, non du Sahara, mais des steppes et sebkhas du nord. Cela à partir de trois arguments géomorphologiques et trois arguments minéralogiques.
Fichier principal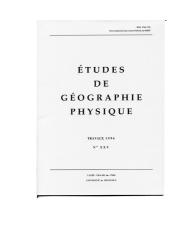 L'origine des limons sableux éoliens des Monts de Matmata (Tunisie).pdf (7.06 Mo)
Télécharger le fichier
Origin : Explicit agreement for this submission