Analyse des inter-relations anthropiques et naturelles : leur impact sur la recrudescence des phénomènes d'ensablement et de désertification au sud-est du Maroc (vallée de Drâa et vallée de Ziz)
This paper presents an analysis of natural and anthopogenic factors responsible for increasing sanding up and desertifciation phenomena in southeastern Morocco. The results revealed that the environment has changed in this region over the last few decades via the influence and interaction of different natural and anthropogenic factors. In this very fragile environment, human pressure, altering climatic conditions and the use of inappropriate technology have prompted a long and insidious process leading to the appearance of desert biotopes, even in previous non-desert areas. Increasing populations and socioeconomic changes are responsible for overuse of this environment. A new relationship between human and the environment has developped through the introduction of modern lifestyle in oasis areas, accompanied by increased road systems, irrigation canals, motorization, dams, etc. With this modernization, traditional techniques are becoming obsolete and out of line with development policies. This has led to a generally unbalanced situation. The main environmental changes that have occured such as sanding up and desertification, are therefore more due to human pressure and accompanying technological modifications, along with resource mismanagement, than to unfavorable climatic conditions. Human activities are therefore chiefly responsible for the environmental imbalance that has occured in southeastern Morocco in recent decades.
Dans cet article nous avons procédé à une analyse des facteurs naturels et anthropiques à l'origine de l'exacerbation des phénomènes d'ensablement et de désertification dans le Sud-Est marocain. Ul s'avère que le milieu a évolué ces dernières décades sous l'influence et l'interaction de divers facteurs anthropiques et naturels. Ainsi, de par ses caractéristiques physiques, ce milieu est naturellement fragile, mais c'est surtout la forte pression humaine alliée à la péjoration des conditions climatiques enregistrée ces dernières décades et l'introduction de technologies lourdes et inappropriées qui ont conduit par de lents processus insidieux à l'apparition de biotopes désertiques même là où il n'y en avait pas. En effet, du fait de l'accroissement de la population et des mutations socio-économiques, on a eu tendance à demander à ce milieu plus qu'il ne peut donner. L'intrusion du monde moderne dans les oasis, qui s'est accompagnée de l'extension du réseau routier, de canaux d'irrigation, de la motorisation, de l'implantation de barrages, etc. a créé de nouveaux rapports entre l'homme et son milieu. La confrontation des techniques modernes et traditionnelles voit ces dernières devenir désuètes, non crédibles et mal adaptées aux nouvelles données des politiques de développement. La situation qui en a résulté est celle d'un déséquilibre généralisé. La recrudescence des phénomènes d'ensablement et de désertification dans le Sud-Est marocain est donc beaucoup plus liée à l'accroissement de la pression humaine, aux transformations technologiques qui l'accompagnent, à une mauvaise gestion des ressources qu'à la péjoration des conditions climatiques peu favorable. Les ,actions humaines sont donc au premier rang des causes des déséquilibres observés ces dernières décennies dans le Sud-Est marocain.
Fichier principal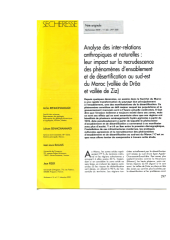 Analyse des inter-relations anthropiques et naturelles... sud-est Maroc.pdf (20.02 Mo)
Télécharger le fichier
Origin : Explicit agreement for this submission