Le contrôle génétique des hyperéosinophilies
Polynuclear eosinophils play a major role in host defe11se against infectious diseases and especially helminthiasis. 011Set of hypereosinophilia can be attri-buted to two mechanisms which can occur separately or in combination. The first mechanism involves enha11ce-ment of medullary production and differentiation of eosi-nophils. The second is prolonged life span of eosinophils. Response to eosinophils depends on various cytokines including IL-5, JL-4, JL-3 and GM-CSF. Since it contains the genes codingfor these cytokines, the Sq31-q33 region of chromosome 5 is the focus of study on gene-tic control of human hypereosinophilia. The goal of these studies is to allow screening of subjects predisposed to hel-minthic infection and to deregulation of immune res-ponses that may lead to atopy and various types systemic inflammatory diseases.
Le polynucléaire éosinophile joue un rôle crucial dans les défenses anti-infectieuses et tout parti-culièrement contre les helminthes. La survenue d'une hyperéosinophilie est attribuable à deux mécanismes qui peuvent s'associer : une augmentation de leur produc-tion médullaire et de leur différenciation et une aug-mentation de leur durée de vie. La réponse à éosino-philes est sous la dépendance de nombreuses cytokines parmi lesquelles l'IL-5, l'IL-4, l'IL-3 et le GM-CSF. Les gènes codant ces dernières étant situé dans la région 5q31-q33 du chromosome 5, c'est à ce niveau que se sont concentrées les études portant sur l'approche génétique des hyperéosinophilies humaines. L'intérêt de ces études est de pouvoir, à l'avenir, mieux identifier les populations à risque d'helminthiases et celles qui pour-raient présenter une dérégulation de la réponse immu-nitaire susceptible de conduire à l'atopie ou à certaines maladies systémiques inflammatoires.
Fichier principal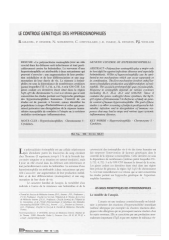 Médecine_tropicale_Institut_de_bpt6k6446843n_HAL1.pdf (661.26 Ko)
Télécharger le fichier