Jean-Baptiste-Esménard (1771-1842): un francés españolizado defensor de los exiliados españoles y de su cultura
Jean-Baptiste Esménard, a French soldier, left revolutionary France in 1792 to settle in Bourbon Spain where he remained until the Peninsular War. Then he opted for the afrancesados and, after the defeat of Joseph I, this French very Spanish was forced to return in France and he lived in exile for a second time. But he never forgot his adopted homeland and he continued to serve it no longer with the sword, but with the pen, as journalist (he wrote for Gazette de France, La Quotidienne, Le Mercure de France, Revue encyclopédique, Journal Militaire…) and as translator (of literary and political texts). In this paper we present the work of Esménard (perhaps the first French "Hispanist") to defend the Spanish exiles and publicize the Spanish literature and culture.
En la edición de 1825 de la Petite biographie nationale des contemporains, ou Diction-naire historique des Français qui se sont rendus célèbres ou fameux par leurs vertus ou leurs vices depuis la Révolution jusqu' à nos jours, Tarmini Almerté dedicó estas líneas a Jean-Baptiste Esménard: "antiguo coronel al servicio del Rey José en España, fue encarcelado durante cuatro años en la prisión de la force. Libre desde 1814, cultiva la literatura española". 1 Este antiguo hijo de Marte que, en tiempos de la Guerra de la independencia, sirvió al "Rey intruso" o al "Rey filósofo" y que desde su regreso a Francia se dedicaba a la defensa y divulgación de la literatura española, tenía un perfecto conocimiento del país que vio nacer al padre del Quijote que, para Montesquieu y no pocos compatriotas suyos, era (todavía a estas alturas del XiX) el único libro español digno de aprecio. 2 Esménard, hijo de un abogado del Parlamento de Aix-en-Provence, había nacido en Pélissanne, en 1771, o sea en la Francia de Luis XVi, y había iniciado su carrera militar en tiempos de la Revolución, lo que le llevó a cruzar los Pirineos, según consta en su ex-pediente militar, en octubre de 1792, a los pocos días de proclamarse la República. optó entonces por el exilio, y ni entregó las armas, ni renunció a sus ideales monárquicos. Prestó juramento a carlos iV, integró al año siguiente el Regimiento de Real-Rosellón y luego la Legión de la Reina. Participó pues de manera activa en la Guerra de la con-vención y, según subrayó en 1815, en una carta al ministro de guerra francés, el duque de Feltre, cuando, en 1795, el rey de España firmó la paz con la República, renunció a su patria y decidió permanecer en España. 3 Pudo añorar su tierra natal con la cual no 1 "Jean-Baptiste Esménard, ancien colonel au service du roi Joseph en Espagne, a été 4 ans à la force. Libre depuis 1814, il cultive la littérature espagnole" (Almerté, 1825: 211). 2 Vid. la carta LXXViii de las Cartas persas de Montesquieu (1721, 2: 21): "Vous pourrez trouver de l' esprit et du bon sens chez les Espagnols; mais n' en cherchez point dans leurs livres. Voyez une de leurs bibliothèques: les romans, d'un côté, et les scolastiques de l'autre. Vous diriez que les parties en ont été faites, et le tout rassemblé, par quelque ennemi secret de la raison humaine. Le seul de leurs livres qui soit bon est celui qui a fait voir le ridicule de tous les autres". 3 s.H.A.T., Expediente de pensión 3yF 62762: carta de Esménard al Ministro de Guerra (París, 15-Xi-1815):
Jean-Baptiste Esménard, militaire français, abandonna la France révolutionnaire en 1792 pour s'établir dans l'Espagne des Bourbons où il demeura jusqu'à la Guerre d'Indépendance. Il rallia alors le camp des afrancesados et, après la défaite de Joseph Ier, ce Français très espagnol se vit à nouveau contraint à l'exil. De retour en France, il n'oublia jamais cette terre d'adoption que fut pour lui l'Espagne. Il continua à la servir non plus par l'épée, mais par la plume, en qualité de journaliste (il signa divers articles dans la Gazette de France, La Quotidienne, Le Mercure de France, la Revue encyclopédique, le Journal Militaire…) et de traducteur. Cet article rend compte des efforts déployés par Esménard (peut-être le premier hispaniste français) pour défendre la cause des exilés espagnols et faire conna\ⁱtre leur littérature et leur culture.
Fichier principal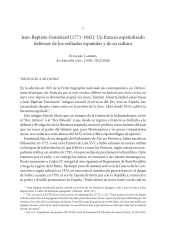 SEPARATA_Las musas errantes. Larriba.pdf (109.47 Ko)
Télécharger le fichier
Origin : Explicit agreement for this submission