Is Environment still a good appeal for French political agenda? A semiotic analysis on French "professions de foi"
France does not escape the current global context of decreasing environmental concerns on the political agenda (Libaert, 2016, Baygert N., Hananel C., 2016, Cox, Peluzzo, 2016, Pascual Espuny 2012, 2016). We demonstrate that the environment has been the subject of media and political peaks at national and international political events such as the Grenelle de l'Environnement in 2007 or the Cop 21 in 2015 and has connoted and boosted during a short time the French public space and political decisions. But the effect of bellows is visible: in everyday life, the picture is less brilliant. The analysis of environmental decisions, of the environment integration in the public affairs shows a dilution of themes, a lack of leadership, a post-crisis reaction attitude, and a complex and lethargic nesting with Europe. Yet, emergencies are there, at the international as well as the national level. So why? Why such a dichotomy between citizen expectations and political responses? What does public environmental communication look like today in France and what challenges does it face to become more effective? Is it a problem of discourse or embodiment? What about the place of the profane content in relation to the expert 's? Does the environmental communication meet the public's sympathy, is it resonating? Finally, what about projection and the declination of the legal framework?
La France n'échappe pas au contexte mondial actuel de décroissance des préoccupations environnementales dans l'agenda politique. Nous montrons que l'environnement a fait l'objet de pics médiatiques et politiques lors d'évènements politiques nationaux et internationaux, tels que le Grenelle de l'Environnement en 2007 ou la tenue de la Cop 21 en 2015 et a connoté et boosté pour un temps l'espace public et les décisions politiques. Mais l'effet de soufflet est visible : au quotidien, le tableau est moins reluisant. L'analyse des décisions environnementales, de l'intégration de l'environnement dans la gestion des affaires publiques montre une dilution des thématiques, un manque de leadership, une attitude de réaction post-crise, et un emboitement avec l'Europe complexe et léthargique. Pourtant, les urgences pointent, au niveau international comme au niveau national. Alors pourquoi ? Pourquoi une telle dichotomie entre attentes citoyennes et réponses politiques ? A quoi ressemble la communication environnementale publique aujourd'hui en France et à quels défis doit-elle faire face pour devenir plus effective ? A cette question de recherche globale, d'autres sous-questions se posent : Est-ce un problème de discours ou d'incarnation de discours ? Qu'en est-il concernant la place de la parole profane par rapport à la parole experte ? La communication environnementale proposée rencontre-t-elle la sympathie du public, est-elle en résonnance ? Enfin, quid de la projection proposée et de la déclinaison de l'encadrement légal ?
Fichier principal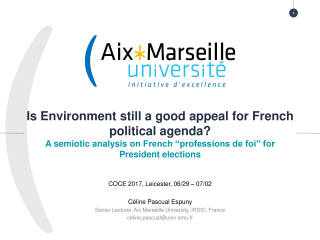 2017_COCE_pascualespuny_presentation.pdf (1.33 Mo)
Télécharger le fichier
Origin : Files produced by the author(s)