Le vase et le microscope : origine et développement d'une connaissance scientifique du corail rouge de Méditerranée (XVIe-XXIe s.)
Red coral, an emblematic product of the Mediterranean, has been studied by naturalists and scientists since antiquity. Previously classified in the mineral world, Corallium rubrum integrated the world of life at the initiative of Ferdinando di Marsigli and Jean-André Peyssonnel during the eighteenth century. In 1864, Henri de Lacaze-Duthiers published a Natural History of Coral, a major contribution to the physiology of this cnidarian. After tracing the emergence of scientific knowledge concerning the red coral, this study proposes a critical analysis of the work of Henri de Lacaze-Duthiers by bringing its contributions into line with contemporary research.
Produit emblématique de la Méditerranée, le corail rouge intéresse naturalistes et savants depuis l'Antiquité. Longtemps rangé dans le monde minéral, Corallium rubruma intégré tardivement le monde du vivant sous l'impulsion des recherches de Ferdinando di Marsigli et de Jean-André Peyssonnel au xviiie siècle. En livrant en 1864 à la communauté scientifique son ouvrage Histoire naturelle du corail, Henri de Lacaze-Duthiers a permis une avancée importante des connaissances de la physiologie de ce cnidaire. Cette étude, après avoir retracé la longue gestation d'une connaissance scientifique du corail rouge, propose une relecture de l'œuvre de ce biologiste français du xixe siècle, en mettant ses apports en écho avec les avancées de la recherche contemporaine.
Fichier principal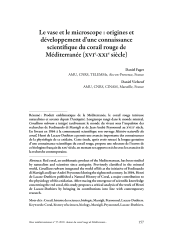 Rives57-Faget-Vielzeuf-157-180.pdf (3.32 Mo)
Télécharger le fichier
Origin : Files produced by the author(s)