Des virus géants créateurs de leurs propres gènes ?
Since 2003 and the discovery of Mimivirus, the saga of giant viruses continues with the isolation of new amoeba viruses, which are now divided into seven distinct families, the origin (s) of which are still mysterious and controversial. Thanks to the isolation of 3 new members of the Pandoraviridae family, whose micrometric particles and genomes of more than 2 megabases encroach on the cellular world, we carried out a stringent re-analysis of their gene contents, using a combination of transcriptomic, proteomic and bioinformatic approaches. We concluded that the only scenario capable of accounting for the distribution and the huge proportion of orphan genes ("ORFans") that characterize Pandoraviruses is that they were created de novo within the intergenic regions. This process, perhaps shared among other large DNA viruses, challenges the central paradigm of molecular evolution according to which all genes / proteins have an ancestry history.
Depuis 2003 et la découverte de Mimivirus, la saga des virus géants se poursuit avec l'isolement de nouveaux virus d'amibes qui se répartissent maintenant en sept familles bien distinctes, aux origines toujours aussi mystérieuses que controversées. À la faveur de l'identification de 3 nouveaux membres de la famille des Pandoraviridae, dont les particules de tailles micrométriques et les génomes de plus de 2 mégabases empiètent sur le monde cellulaire, nous avons procédé à une ré-analyse pointilleuses de leur contenu en gènes, aidé par les apports combinés de la transcriptomique, de la protéomique et de la bioinformatique. Nous en avons conclu que le seul scénario capable de rendre compte de la répartition et de l'énorme proportion de gènes orphelins qui caractérisent les Pandoravirus est qu'ils aient été créés de novo au sein des régions intergéniques. Ce processus, peut-être partagé par d'autres grands virus à ADN, vient remettre en question le paradigme central de l'évolution moléculaire selon lequel tous les gènes/protéines ont une histoire.
Fichier principal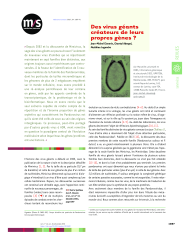 msc180203.pdf (807.85 Ko)
Télécharger le fichier
Origin : Publisher files allowed on an open archive