Quorum sensing et quorum quenching : Comment bloquer la communication des bactéries pour inhiber leur virulence ?
Most bacteria use a communication system known as quorum sensing which relies on the secretion and perception of small molecules called autoinducers enabling bacteria to adapt their behavior according to the population size and synchronize the expression of genes involved in virulence, antimicrobial resistance and biofilm formation. Methods have emerged to inhibit bacterial communication and limit their noxious traits. Chemical inhibitors, sequestering antibodies and degrading enzymes have been developed and proved efficient to decrease bacterial virulence both in vitro and in vivo. This strategy, named quorum quenching, also showed synergistic effects with traditional antibacterial treatments by increasing bacterial susceptibility to antibiotics. Thereby quorum quenching constitutes an interesting therapeutic strategy to fight against bacterial infections and limit the consequences of antibiotic resistance.
La plupart des bactéries utilisent un système de communication, le quorum sensing, fondé sur la sécrétion et la perception de petites molécules appelées autoinducteurs qui leur permettent d'adapter leur comportement en fonction de la taille de la population. Les bactéries mutualisent ainsi leurs efforts de survie en synchronisant entre elles la régulation de gènes impliqués notamment dans la virulence, la résistance aux antimicrobiens ou la formation du biofilm. Des méthodes ont vu le jour pour inhiber cette communication entre bactéries et limiter leurs effets nocifs. Des inhibiteurs chimiques, des anticorps ou encore des enzymes capables d'interférer avec les autoinducteurs ont été développés et se sont montrés efficaces pour diminuer la virulence des bactéries à la fois in vitro et in vivo. Cette stratégie, appelée quorum quenching, a également montré des effets synergiques avec des traitements antibactériens classiques. Il permettrait notamment d'augmenter la sensibilité des bactéries aux antibiotiques. Ceci constitue une piste thérapeutique prometteuse pour lutter contre les infections bactériennes et limiter les conséquences de l'antibiorésistance.
Fichier principal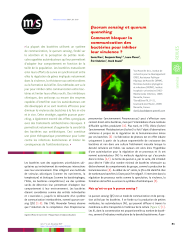 msc180205.pdf (1.54 Mo)
Télécharger le fichier
Origin : Publication funded by an institution