Recherche d'un traumatisme lors de l'annonce diagnostique en oncologie : représentation subjective de l'annonce diagnostique par le dessin
This study aims to evaluate the effects of a research protocol based on the use of drawing, in the trauma psychological care associated with the cancer diagnosis announcement. Our objective is to highlight that drawing is a relevant therapeutic tool for the psychological care of an adult population by its projective dimension, using a creative process. The presentation of the case of Laurence illustrates our research protocol. In the context of a recent diagnosis announcement (less than a month), we proceeded to three meetings at intervals of about three weeks. A drawing representing the moment of the diagnosis announcement was requested and carried out at each session and a questionnaire evaluating the traumatic impact of the diagnosis announcement was scored, before the first drawing and then after the last one. The results show an effect of the research device regarding the scores of the Impact of Event Scale Revised (IES-R) and the analysis of drawing/discourse relationships, as a mirror of the trauma elaborating work during the follow-up. Using drawing as a therapeutic tool in adult oncology proves to be a possible and relevant option for psychologists, to care psycho-trauma situations.
Cette étude se propose d'évaluer les effets d'un protocole de recherche qui s'étaye sur l'usage du dessin dans la prise en charge du traumatisme lié à l'annonce diagnostique du cancer. Notre objectif est de mettre en évidence que le dessin est un outil thérapeutique pertinent pour la prise en charge d'une population adulte, par sa dimension projective utilisant un processus de création. La présentation du cas de Laurence permet d'illustrer le dispositif de recherche. Il s'agit de trois rencontres dans un contexte d'annonce diagnostique récent (moins d'un mois), à des intervalles d'environ trois semaines. Un dessin représentant le moment de l'annonce diagnostique a été demandé et réalisé à chacune des séances et un questionnaire évaluant l'impact traumatique de l'annonce diagnostique a été coté avant le premier dessin, puis après le dernier dessin. Les résultats montrent un effet du dispositif de recherche à partir des cotations de l'Impact of Event Scale-Revised (IES-R) et de l'analyse des rapports dessin/discours comme miroir du travail d'élaboration du traumatisme au cours du suivi. L'usage du dessin comme outil thérapeutique en oncologie adulte s'avère être une voie possible et pertinente pour les psychistes dans la prise en charge du psycho-traumatisme.
Fichier principal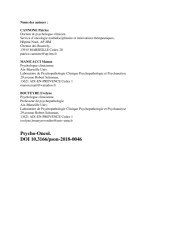 Cannone et al. N°3, HAL.pdf (146.75 Ko)
Télécharger le fichier
Origin : Files produced by the author(s)