Pratiques paysannes d'exploitation des arbres et paysages forestiers du Haut Atlas marocain
In the Moroccan Upper Atlas, the rural Berber societies have established endogenous management systems that maintain the availability of forest and pastoral resources in the long term, in particular through the practice of agdal. This consists in temporarily setting aside well-defined areasofgrazing land and establishing rules of usage for clearly identified eligible users. The rules devised and the resulting usage have a direct impact on tree shapes and the structure of forest stands. In this way,diversified landscapes are formed in rural forests that match the lifestyles and needs of the population, through the integration of production,conservation and management of unexpected events in a demanding upland environment against the social, political and spiritual background that is inherent to the local societies that devised these systems.
Dans le Haut Atlas marocain, les sociétés rurales berbères ont mis en place des systèmes de gestion endogènes qui ont permis de maintenir la disponibilité des ressources forestières et pastorales sur le temps long, notamment parla pratique de l'agdal. Celle-ci correspond à l'instauration de mises en défens temporaires sur des territoires bien définis et l'élaboration de règles d'usages pour des ayants droit bien identifiés. Les modalités des règles et des pratiques d'usages qui en découlent ont des incidences directes sur les formes des arbres et la structure des peuplements forestiers. On assiste ainsi à un façonnage de paysages diversifiés au sein d'une forêt rurale qui répond à des modes de vie et des besoins qui intègrent production,conservation et gestion des aléas d'un milieu montagnard contraignant au sein de dimensions sociales, politiques et spirituelles propres aux sociétés locales qui les ont pensées.
Fichier principal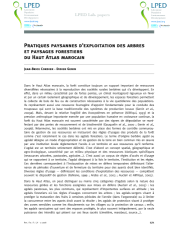 LPED_571_588_CORDIER.pdf (2.58 Mo)
Télécharger le fichier
Origin : Files produced by the author(s)