Communicate with touchscreens: which influences of interactive advertising in the point of sale?
Communiquer avec des écrans tactiles. Quelles influences de la publicité interactive sur le lieu de vente ?
Even if more and more organizations (such as museums, business companies or public organizations) are seeking to improve their mediation with people thanks to interactive means of communication, too many are unable to assess the effectiveness of it. For instance, profit organizations which advertise with touchscreens on the retail outlets. Two experiments were led in a natural environment have studied/analysed these effects: such advertising encourages people to buy products proposed by the trademark. This type of advertising was first compared to a non-interactive one, then to no ad at all. If interactive advertising improves some cognitive judgements about the brand, it may be less efficient to change attitude toward the brand products. For a better understanding of the psychosocial processes involved into the use of interactive tactile communication, the results are analysed in the light of the theory of the Elaboration Likelihood Model and of the concept of preparatory act. Limits and new research perspectives are also indicated.
Si de plus en plus d'organisations (musées, entreprises commerciales, organisations publiques…) cherchent à améliorer la médiation avec leurs publics en utilisant des technologies de communication interactive, peu évaluent leur efficacité. C'est le cas des organisations marchandes faisant de la publicité avec un écran tactile sur des lieux de vente. Deux expérimentations menées en milieu « naturel » ont étudié ses effets : elle incite davantage à acheter des produits de la marque par rapport à des conditions où, premièrement, la publicité audiovisuelle est diffusée sur un écran non interactif et, deuxièmement, sans publicité. Si la publicité interactive améliore certains jugements cognitifs sur la marque, elle serait moins efficiente pour modifier l'attitude à l'égard des produits de la marque. Pour mieux comprendre les processus psychosociaux impliqués dans la communication interactive tactile, nous interprétons les résultats à la lumière de la théorie de la probabilité d'élaboration et du concept d'actes préparatoires. Les limites et nouvelles perspectives de recherche sont également indiquées.
Fichier principal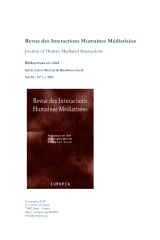 2-RIHM18(N18V1)-Buttafoghi(1).pdf (1.02 Mo)
Télécharger le fichier
Origin : Publisher files allowed on an open archive