Bitcoin : la revanche inattendue des libertariens
Serge Schweitzer, an economist and disciple of the Austrian School of Economics, has always displayed his libertarian sympathies. Following in the footsteps of economists such as Ludwig Von Mises or Murray Rothbard, he has always denounced the monopoly of governments in the production of money through central banks. This situation is now being called into question by a technological innovation: crypto-currencies (or cyber-currencies), foremost among which is Bitcoin. To honor Serge Schweitzer's career and his fight for a free currency, the author praises Bitcoin and outlines the main economic and political prospects offered by this innovation. Despite its revolutionary character from a technological and political point of view, Bitcoin faces regulatory barriers that will be difficult to overcome, and which the author analyzes in the conclusion of this article.
Serge Schweitzer, économiste disciple de l'Ecole Autrichienne d'Economie, a toujours affiché ses sympathies libertariennes. Dans la lignée d'économistes tels que Ludwig Von Mises ou Murray Rothbard, il a toujours dénoncé le monopole des gouvernements dans la production monétaire au travers des banques centrales. Cette situation est aujourd'hui remise en cause par une innovation technologique : les crypto-monnaies (ou cybermonnaies) au premier rang desquelles Bitcoin. Pour honorer la carrière de Serge Schweitzer et son combat pour une monnaie libre, l'auteur fait l'éloge de Bitcoin et trace les principales perspectives économiques et politiques offertes par cette innovation. Malgré son caractère révolutionnaire d'un point de vue technologique et politique, Bitcoin fait face à des barrières règlementaires qui seront difficiles à surmonter, et que l'auteur analyse en conclusion de cet article.
Fichier principal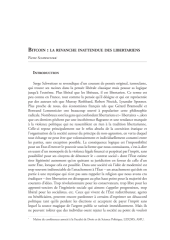 Bitcoin ou la revanche des libertariens sans bulles jaunes.pdf (212.67 Ko)
Télécharger le fichier
Origin : Files produced by the author(s)