Comportements et pratiques des médecins : exercer dans les zones les moins dotées, cela fait-il une différence ?
According to recent projections, the number of private practice physicians will decrease by 30 % by 2027 and the standardised density will continue to decline up to 2023, thus creating territorial inequalities in physicians' distribution in mainland France. This article focuses on the adaptations that private general practitioners (GPs) make when they already practice in underserved areas. The data used are those of the third panel of general practitioners matched with indicators provided by the Social Security (CNAMTS). We used the local potential accessibility indicator developed by IRDES and DREES to define the underserved areas for general practitioners. Our results show that GPs' consultation rhythm is higher in underserved areas, while the overall working-time is not very responsive to the local medical density. We also find some statistically significant differences in practices : more frequent prescription of certain drugs, less referrals to paramedical care, probably less regular gynaecological follow-up, for GPs practicing in underserved areas compared to their counterparts in better-served areas. However, it appears that there are no significant differences regarding the indicators of Rémuneration sur objectifs de santé publique (ROSP) [French supplementary payment-for-performance] program, which could allow a first assessment of the quality of care.
Selon les projections récentes, les effectifs de médecins libéraux diminueront de 30 % d'ici à 2027 et la densité standardisée diminuerait jusqu'en 2023, créant des poches de sous-densité relativement nombreuses sur le territoire français métropolitain. L'article s'intéresse aux ajustements que les médecins généralistes de ville mettent en œuvre lorsque, sur leur territoire, ils sont d'ores et déjà confrontés à cette raréfaction. Les données utilisées sont celles du troisième panel des médecins généralistes enrichies d'indicateurs fournis par la CNAMTS. Nous nous sommes appuyés sur l'indicateur d'accessibilité potentielle localisé, développé par l'IRDES et la DREES, pour définir les zones les moins dotées en généralistes. En comparant les comportements des généralistes exerçant dans les zones les moins dotées à leurs homologues des zones mieux dotées, il est apparu d'abord que le planning d'activité du médecin tend à s'intensifier plutôt qu'à s'allonger. Nos données semblent en effet montrer que les rythmes de consultation dans les zones les moins dotées sont plus élevés, alors que le temps de travail global des généralistes s'avère quant à lui peu réactif à la densité en médecins alentour. On note aussi quelques différences statistiquement significatives sur les pratiques médicales : usage accru de certains médicaments, moins de renvoi vers des soins paramédicaux, suivis gynécologique probablement un peu moins réguliers, etc. Cependant, il semble que les différences ne sont pas statistiquement significatives pour les indicateurs de qualité des pratiques rattachés au dispositif de rémunération sur objectifs de santé publique (ROSP).
Fichier principal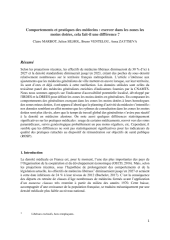 Comportements et pratiques des médecins_2019.pdf (932.11 Ko)
Télécharger le fichier
Origin : Files produced by the author(s)