Des fonctions du double chez Rank et Freud à la romance amoureuse à l'adolescence
Functions of the double in adolescent romance in Rank and Freud Abstract: Our article proposes a new theoretical-clinical definition of the double in psychoanalysis, in relation to its links to adolescent processes. To do so, we first relate the works of Rank (1909; 1932) on the double and the hero to the works of Freud (1909; 1913) on the family romance of neurotics and the myth of totem and taboo, in terms of their links to fraternal issues. We then analyze the clinical case of a sixteen-year-old woman admitted for therapeutic support, to show that the double is a figure of transference, allowing the patient an update of her fraternal desires, as well as a construction of her romance. Therefore, the "sororal and fraternal double" that we define metamorphoses the bond of love in adolescence.
Notre article propose une nouvelle définition théorico-clinique du double en psychanalyse, dans ses liens aux processus adolescents. Pour cela, nous articulons d'abord les travaux de Rank (1909, 1932), sur le double et le héros, aux travaux de Freud (1909, 1913), sur le roman familial des névrosés et le mythe de totem et tabou, dans leurs articulations aux enjeux fraternels. Nous analysons ensuite le cas clinique d'une jeune femme de 16 ans, reçue pour un accompagnement thérapeutique, afin de montrer que le double constitue une figure du transfert, permettant à la patiente une actualisation de ses désirs fra-ternels, ainsi qu'une construction de sa romance amoureuse. Donc, le « double sororal et fraternel », que nous définissons, métamorphose le lien amoureux à l'adolescence.
Fichier principal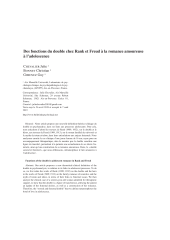 Des fonctions du double chez Rank et Freud à la romance amoureuse à l'adolescence - Julie Chevalier, Christian Bonnet et Guy Gimenez.pdf (376.02 Ko)
Télécharger le fichier
Origin : Files produced by the author(s)