Un habitat de la fin de l'âge du Bronze entre lagune et fleuve : le site immergé de la Motte à Agde (Hérault, France)
The site of la Motte 1 (Agde, Hérault), submerged in the minor bed of the Hérault River, is known for the discovery of rich female personal ornaments dated to the 8th century BC, associated with the remains of a settlement. We present here an overview of the results from recent excavations carried out at this site between 2011 and 2018. The issues related to the structuration of the site, to its duration and to its economy are addressed more particularly with the aim of giving thought to its place in the Late Bronze Age occupation of the lower Hérault valley.Core sampling carried out on each bank of the river has revealed the presence of an open lagoon from the Neolithic to the Bronze Age. During its occupation the la Motte site was located on the edge of the lagoon and near to the mouth of the Hérault River. It is characterised by nearly 500 wooden piles divided into two main groups located on shoals, connected with numerous basalt blocks that may have contributed to the structuring of the occupation.Most of the wooden pieces that could be identified are vertical elements, piles and stakes that have been rammed into the ground. The pieces analysed reveal the use of a variety of species, reflecting the diversified use of distinct environments such as Mediterranean mixed oak forests and riparian forests. Most of these are therefore young woods, which were cut into green, unbarked wood. They reflect a simple exploitation of the forest environment in which wood is abundant.Nearly 80% of the wood identified at the site has been identified via its anatomy. This makes it possible to carry out a spatial analysis of the site's structure based on the nature of the wood used. Several coherent alignments using a particular wood species could thus beidentified. The surveys carried out made it possible to interpret them as bank support and protection systems using different techniques:arbutus wattle supported by oak piles and possible live willow piles. In the centre was a settlement that unfortunately has been severelyeroded by the action of the river. However, remains of dwellings can be identified and these suggest a building plan.The analysis of the pottery remains found in stratigraphic surveys makes it possible to characterise the temporal evolution of the sitefrom the end of the 10th century BC (Bronze final IIIa) to the beginning of the 8th century BC. This is confirmed by radiocarbon datingwhich has been the subject of Bayesian modelling. These data show a development of the site from south to north. Different shorelinestabilisation systems may have been successively implemented in response to the morphological evolution of the site and its environment.Data on the economy of the site (anthracology, carpology, paleoentomology and archaeozoology) indicate a permanent settlementoccupied all year round, whose economy was primarily oriented towards agriculture and livestock. Deliberately located at the interfacebetween two environments with different potentialities, its inhabitants built shoreline protection systems to ensure the long-term survivalof the village for at least two centuries.The village was part of a settlement network regularly established along the Hérault River. It is also the eastern extension of thepolarised lagoon settlements established around the Thau pond. Within this network, the littoral habitat of la Motte does not seem toconstitute a site dependent on the settlements in elevated positions of the hinterland, as has been proposed in other Languedoc regions.Metalworking, on the other hand, seems to be an important activity. It is therefore legitimate to ask whether it may have played a roleas a producer and distributor of bronze objects made, at least in part, with copper ore from the Cabrières district?
Le site la Motte 1 (Agde, Hérault), immergé dans le lit mineur du fleuve Hérault, est connu pour avoir livré une riche parure féminine datée du viiie siècle av. J.-C. associée à des vestiges d'habitats. Nous présentons ici une synthèse des résultats des fouilles récentes menées sur ce site entre 2011 et 2018.Au moment de son occupation, l'établissement de la Motte se situait en bordure de lagune et à proximité de l'embouchure de l'Hérault. Il se caractérise par près de 500 pieux de bois répartis en deux ensembles principaux localisés sur des hauts fonds, associés à de nombreux blocs de basalte qui ont pu participer de la structuration de l'occupation. Les pieux correspondent à plusieurs alignements cohérents faisant appel à une essence de bois en particulier. Les sondages réalisés permettent de les interpréter comme des systèmes de maintien et de protection de berge utilisant des techniques différentes : fascine de clayonnage et possibles piquets vivants en saule. Ils devaient protéger un habitat qui a malheureusement été fortement érodé par l'action du fleuve. L'analyse des corpus céramiques et des datations radiocarbone permet de caractériser une évolution de la fin du xe (Bronze final IIIa) au début du viiie siècle av. J.-C., avec un développement du site du sud vers le nord.Différentes analyses (anthracologie, carpologie, paléoentomologie et archéozoologie) convergent vers la caractérisation d'un habitat pérenne occupé toute l'année, dont l'économie était prioritairement tournée vers l'agriculture et l'élevage. Délibérément implanté à l'interface entre deux milieux aux potentialités différentes, il s'insérait dans un réseau d'habitat régulièrement implanté le long du fleuve Hérault. Au sein de ce réseau, il ne semble pas constituer un site dépendant des occupations de hauteur de l'hinterland. Le travail du métal y semble en revanche une activité importante. Il est donc légitime de se demander si le site de la Motte n'a pas joué un rôle de producteur et de distributeur d'objets en bronze réalisé, au moins en partie, avec le minerai de cuivre du district de Cabrières ?
Fichier principal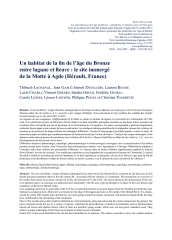 Lachenal et al 2020 ActesDeSeanceSocietePrehistoriqueFrançaisedAgde.pdf (19.94 Mo)
Télécharger le fichier
Origin : Files produced by the author(s)