HIV-infected patients' expectations about emotional and sexual health
Consultation « santé sexuelle et affective » : quelles attentes pour les personnes vivant avec le VIH ?
ObjectivesPeople living with HIV (PLWH) are particularly affected in their sexual life. Medical support of PLWH's sexuality is increasingly proposed however no data are available. We assessed the interest of PLWH for sexual and emotional health support within a French HIV outpatient care facility.Population and methodsAnonymous questionnaire proposed to PVWH attending our facility. Five types of consultations were investigated: overall sexual and emotional health; HIV transmission and prevention; sexually transmitted diseases; sexual practices; recreational drugs. Cluster analysis in order to identify groups of PLWH with similar expectations.ResultsA total of 138 questionnaires completed: 64.5% were interested by at least one type of consultation. No significant differences between clusters by gender, age, or sexual orientation.ConclusionThese results confirm patients' demand for sexual and emotional health support in the frame of PLWH's health care. Patients declaring no interest for this type of consultation were no different from those interested.
ObjectifsLes personnes vivant avec le VIH (PVVIH) sont particulièrement affectées dans leur vie sexuelle. La prise en charge médicale de leur sexualité se développe, mais aucune donnée n'est disponible. Évaluation de l'intérêt pour des consultations de santé sexuelle et affective au sein d'une unité ambulatoire de prise en charge des PVVIH.Patients et méthodesQuestionnaire anonyme proposé aux patients fréquentant le service. Cinq types de consultations évaluées : santé sexuelle et affective, modes de transmission et de prévention, infections sexuellement transmissibles, pratiques sexuelles, drogues récréatives. Analyse de cluster pour identifier des patients ayant des besoins similaires.RésultatsAu total, 138 questionnaires complétés. Le pourcentage des intéressés par au moins un type de consultation est de 64,5. Pas de différence en termes d'âge, de sexe ou d'orientation sexuelle entre les clusters.ConclusionCette étude met en évidence le besoin des patients concernant la prise en charge de leur santé sexuelle et affective.
Fichier principal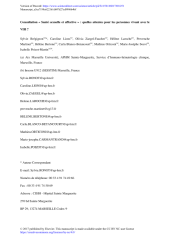 S1158136017301251.pdf (688.17 Ko)
Télécharger le fichier
S115813601730124X.pdf (412.77 Ko)
Télécharger le fichier
Origin : Files produced by the author(s)
Origin : Files produced by the author(s)