Diamesic Variation in Direct Reported Speech: Representing Orality in Fiction
Conveying mimetic dimensions to the reader of fiction is at the core of the representation of speech acts. This is precisely why representing a speaker's words or thoughts is a challenge: the reporter is in charge of representing oral conversations as accurately as possible using written modes of representation. This study aims to analyse how narratorial intrusion contributes to the representation of the paralinguistic features of oral conversations enacted by characters in dialogues. The research presented here focuses on multimodal communication in dialogues, drawing on a corpus of American and British contemporary fiction for the investigation of diamesic variation.
La représentation d'actes de parole dans les extraits de fiction s'appuie essentiellement sur la dimension mimétique. C'est pourquoi rapporter les paroles ou les pensées d'un personnage représente un défi : le locuteur rapporteur endosse la responsabilité de rapporter aussi précisément que possible des conversations orales par l'emploi de modes écrits de représentation. Cette étude se propose d'analyser comment l'investissement du narrateur contribue à la représentation de paramètres paralinguistiques typiques des énoncés oraux produits par les personnages diégétiques dans les dialogues. La présente recherche envisageant la communication multimodale dans les dialogues, la variation diamésique est étudiée à partir d'un corpus de fiction en anglais britannique et américain.
Fichier principal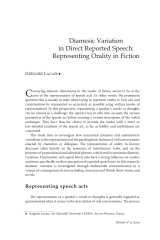 RANAM53_2020_Lacaze.pdf (229.75 Ko)
Télécharger le fichier
Origin : Publisher files allowed on an open archive