Teaching the project through case study: an added value to the training of urban planners?
Enseigner le projet par l'étude de cas : une valeur ajoutée à la formation des urbanistes ?
Dans les formations en urbanisme et aménagement labellisées par l'APERAU, l'atelier dit « professionnel » est l'élément pédagogique clé d'un apprentissage du projet « par la pratique ». Dans cette communication, nous proposons d'interroger une forme complémentaire de pédagogie du projet, l'étude de cas. Si l'atelier participe d'un apprentissage du projet par « composition », l'exercice d'études de cas procèderait lui plutôt par « décomposition » de tout ce qu'il a fallu mettre ensemble pour en arriver à la situation observée au temps présent. Sur la base d'une expérience de conduite d'un module d'enseignement dispensé au sein d'un Master 2 Urbanisme et Aménagement, il s'agit dans un premier temps de revenir sur les fondements et spécificités propres à l'étude de cas, puis, dans un deuxième temps d'avancer une série d'apports pédagogiques dont l'étude de cas est paru porteuse, et enfin dans un troisième temps de mettre en miroir ces apports pédagogiques avec ceux plus heuristiques issus de son application aux espaces extérieurs d'ensembles résidentiels labellisés « Patrimoine du XXème siècle » à Aix-en-Provence et Marseille.
Fichier principal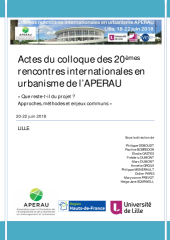 ACTES_RIU_APERAU_2018_ULille_BB_BR.pdf (435.14 Ko)
Télécharger le fichier
Origin : Files produced by the author(s)