"'Wherein I am false I am honest; not true, to be true' (IV.4.50): Updating Deleuze's Crystal-image with Almereyda's Cymbeline".
This article offers a new perspective on Shakespearean adaptation, treating it as an aesthetic practice designed to draw new conclusions from the epistemic machines that Shakespeare's plays constitute. This new take on adaptation results from the study of a specific case, Michael Almereyda's Cymbeline, which is seen as the juncture between the play, the film, but also Gilles Deleuze's philosophical concept of the crystal-image, a third term that is essential to make sense of the director's adaptation strategy. As the result of an analysis that would benefit from being complemented by the study of similar cases, the article claims that Shakespearean adaptation serves a didactic purpose. In such cases as Cymbeline, adaptation teaches viewers in general that the evolution of visual productions has consequences on reception, and drives readers of Deleuze, in particular, to update their vision of the image-crystal. Where Deleuze taught us to see time in the image-crystal, such adaptations as Almereyda's show the concept to be in need of an update because of the passing of time.
Cet article propose une nouvelle manière d'aborder l'adaptation shakespearienne. Celle-ci est ici considérée comme une pratique esthétique dont le but est de tirer de nouvelles conclusions à partir de l'utilisation des machines épistémiques que sont les pièces de Shakespeare. Cette nouvelle manière de voir l'adaptation est le résultat d'une étude de cas, le Cymbeline de Michael Almereyda, lu comme point nodal entre la pièce, le film, mais encore un troisième terme crucial pour comprendre la stratégie d'adaptation mise en place : le concept d'image-cristal tel que théorisé par Gilles Deleuze. Au terme d'une analyse qui gagnerait à être complétée par l'étude de cas similaires, l'article affirme que l'adaptation shakespearienne remplit une fonction didactique. Grâce à des films tels que Cymbeline, l'adaptation rappelle au grand public que l'évolution des productions audiovisuelles a des conséquences sur la réception, tout en enseignant aux lecteurs de Deleuze que le moment est venu de mettre à jour leur vision du concept fondamental de l'image-cristal. Là où Deleuze nous incitait à voir le temps dans l'image-cristal, des adaptations comme celle d'Almereyda placent le passage du temps à l'origine d'une nécessaire mise au point sur cette même image-cristal.
Fichier principal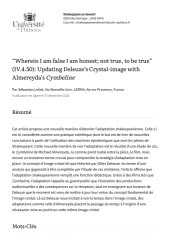 Cahiers Shakespeare Sébastien Lefait, Lerma.pdf (415.35 Ko)
Télécharger le fichier
Origin : Explicit agreement for this submission