Cartographie des significations de l'expression « bon manager »
This work aims at clarifying the meaning of an expression which is often employed in managerial speech. But this expression is not enough analyzed. The expression « bon manager », is analyzed from a corpus of 50 French-speaking publications in management among the academic journals available on the Cairn website. The objective of this paper is to show the ideological presupposition of this expression. Six groups of meanings emerge from our work, according to cognitive status and relativeness. Thus, the expression doesn't have the same meaning if it refers to a reality or a representation, if goodness is absolute or relative, and if it is relative to a situation or to a particular perception we have of it. We show in this work that the managerial ideology would have an interest to maintain the confusion between those meanings, because it allows to require excellence for managers, because it takes fiction as a reality, like it did with the Stakhanovian figure.
Ce travail contribue à clarifier le sens d'une expression employée très couramment dans le langage managérial, sans faire l'objet d'une relecture critique étayée. L'expression « bon manager» est analysée ici à partir d'un corpus de 50 publications francophones en sciences de gestion dans les revues partenaires du CAIRN. L'objectif est de manifester les présupposés idéologiques de l'emploi de cette expression. Six familles de significations possibles sont mises en lumière, en fonction du statut cognitif de l'expression, d'une part, et de son caractère relatif, d'autre part. Ainsi, l'expression n'a pas la même signification selon que l'expression renvoie à une «réalité» ou à une représentation, selon que la «bonté» du «bon manager» est absolue ou relative, selon qu'elle est relative à une situation ou à la perception qu'on en a. Nous montrons dans ce travail que «l'idéologie managériale» aurait un intérêt à entretenir la confusion entre ces familles de sens qui lui permet d'exiger l'excellence de la part des managers, en faisant prendre une fiction normative pour une réalité descriptive, à l'image de Stakhanov.
Fichier principal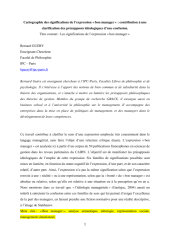 mm_ripco_40_51b1a6e80e20_3_1-2020-01-21-09-05-38.Submitted.pdf (523.53 Ko)
Télécharger le fichier
Origin : Files produced by the author(s)