Aspects de la religion civique à Arles au bas Moyen Âge. Cantars et entrées dans la chronique de Bertrand Boysset
In his 1365-1415 chronicle, Arles-born Bertrand Boysset describes several ceremonies his city organised which belonged to expressions of "civic religion": cantars and solemn entries. A cantar was a requiem mass officiated over an empty coffin, away from the site where the body was buried. Boysset witnessed the cantars of Queen Joan (1385), Louis II's brother (1404), and Queen Marie of Blois (1405). The solemn entry was a two-step honorific rite: the occursus, by which the city leaders greeted the visitor, and the adventus, in which they accompanied the visitor in the procession leading to the main church of the city. Boysset mentions several entries and provides a detailed account of two of them: King Martin of Aragon's in 1397 and Queen Yolande's in 1400, on the eve of her wedding with Louis II. He captures the city's contribution to the organisation of the cantars and the entry of 1400.
L'Arlésien Bertrand Boysset décrit dans sa chronique (1365-1415) plusieurs cérémonies organisées dans sa ville qui relèvent de la "religion civique": des cantars et des entrées solennelles. Le cantar est une messe de requiem célébrée après le décès et l'ensevelissement hors du lieu de la sépulture, devant un cercueil vide. Boysset est témoin des cantars de la reine Jeanne (1385), du frère de Louis II (I404) et de la reine Marie de Blois (1405). L'entrée solennelle est un rite d'honneur qui comporte deux séquences, l'occursus par lequel la ville va au devant du visiteur et l'adventus qui accompagne sa marche escorté d'un cortège jusqu'à l'église majeure de la cité. Boysset évoque plusieurs entrées et donne un récit détaillé de deux d'entre elles: celles du roi Martin d'Aragon (1397) et de la reine Yolande à la veille de son mariage avec Louis II (1400). Il met en évidence la contribution de la ville à l'organisation des cantars et de l'entrée de 1400.
Fichier principal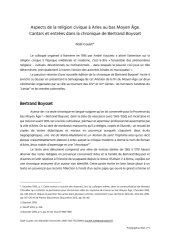 Aspects-de-la-religion-civique version post print.pdf (206.23 Ko)
Télécharger le fichier
Origin : Files produced by the author(s)